The Moulin Légaré has always been a gathering place for the local population. People came to the mill to buy flour and hear the local news, and they still do today. But now, since the mill was designated as a heritage landmark and was purchased by the City of Saint-Eustache, it's important to open the mill up and promote it to a broader population. Over the years, the Corporation du Moulin Légaré (CML) has gradually developed its tourism and education program, attracting a greater number of visitors interested in learning about this heritage gem.
The first people to welcome visitors were the millers themselves. They were the best ones to explain how the mill operates, and they enjoyed having a friendly chat with the customers who came to the mill to buy flour. At other times, some of the board members would fill in for the millers at the last minute when circumstances required. Since they were with the millers on a regular basis, they were well-informed and able to communicate information about the mill and the craft of milling.
As Léon Tremblay explains below, a need was felt to make the tours more structured, especially since they bring in a significant proportion of the CML's revenue.
View this video with a transcript: Léon Tremblay on the first tours of the Moulin Légaré
For a while, the Corporation partnered with a tour company. The Moulin Légaré site was one of the stops on their tour of attractions in Saint-Eustache, and the CML collected a portion of the revenue. Before the CML took full charge of its tourism and education program, it received a subsidy from the City to hire tour guides.
Pierre-Paul Renaud talks about how some of the board members developed an educational programme.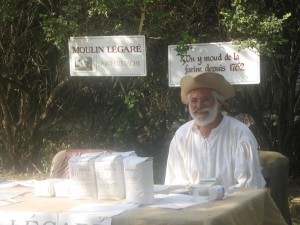 Audio clip with transcript: Pierre-Paul Renaud on the educational programme
In 2015, the CML has a very diverse education program. It includes not only tours and educational activities related to the mill but also exhibitions at the Maison de la culture et du patrimoine (manoir Globensky), the Saint-Eustache Church and in the Chénier-Sauvé House and Gardens. Every year, nearly 20,000 people visit the site of Moulin Légaré. Those activities contribute to the mill's vitality by informing the public about the history of the Moulin Légaré and Vieux-Saint-Eustache, raising awareness about preserving our heritage, and generating revenue so that we can continue to preserve it.
Corporation du Moulin Légaré