"Oh! What greater dream of wealth, what greater joy for children to be carried to and from school in vans, and have an elegant building in which to be taught by the best of teacher(s)…" 
– George Crawford, 13, MCS student (1905)
Students come from near and far to study at the new school. There are over 160 in the first year. Ten extended families make up more than half of the student population. The largest is the Flewelling family with 16 students, followed by 14 Wetmores, and 12 members of the Waddell family.
The youngest student is 6. Several are over 20. Twenty are from outside the consolidated districts. They must board in Kingston or make their own way to school. Were it not for the shortage of places to board, Principal Hamilton claims there would be at least 20 more students from away.
Some of the older students are returning to school after an absence of years. A number of them have come home again to take advantage of this new opportunity for a high school education while living at home.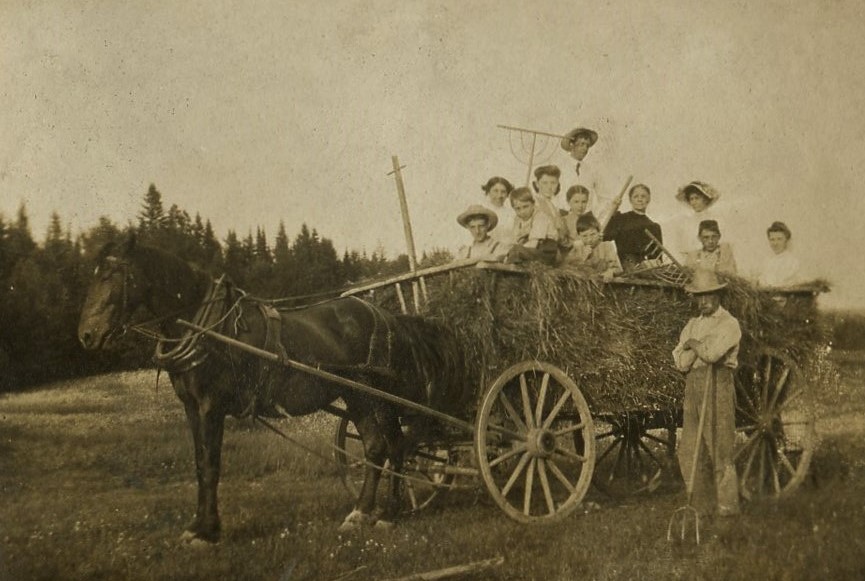 Every member of the family has a job on the farm
Most students live on farms. Farm chores can mean early morning work before setting out for school. Still, most are enthusiastic. Both enrolment and regular attendance increase. A few students walk more than 3.5 miles (6 km) to and from school every day. Others come on horseback over rough country trails. Those conveyed in the unheated school vans must find ways to avoid frostbite and stay warm during the winter months. For the price of an apple a girl might let a boy sit on her feet to keep them warm.
There is almost no need for discipline. Student pride in the new school is great. The first year they raise over $100 for a piano. On Arbour Day they plant two hundred trees.
Four years later the beautiful school is gone. Read about the fire next.