A magnificent school with a view
"The view from the upper windows of the building is something grand. The hills and valleys with three separate bodies of water can be seen…." Student George Crawford 1905 
At Robertson's insistence, the building and its setting are beautiful. It is situated on the Public Square with a view of the hills, valleys, and three separate bodies of water. Historic Trinity Anglican Church, built in 1789, sits on the opposite side of the road.
The school stands 2 ½ stories tall. Its outside walls are an attractive design of shingles and clapboard. Stones from the county jail, which once stood at the same location, have been used for the school's foundation. The red-trimmed windows are large to keep the rooms airy and bright. The grounds have ample space for the student gardens.
There are three big classrooms and a teachers' room on the ground floor. Three more classrooms, a chemistry lab, and the Principal's room are on the second floor. On the top floor, there is a large assembly and exhibition hall with a stage that has seating on three sides. The furnace and playrooms are in the basement. The dry earth toilets are in a separate building.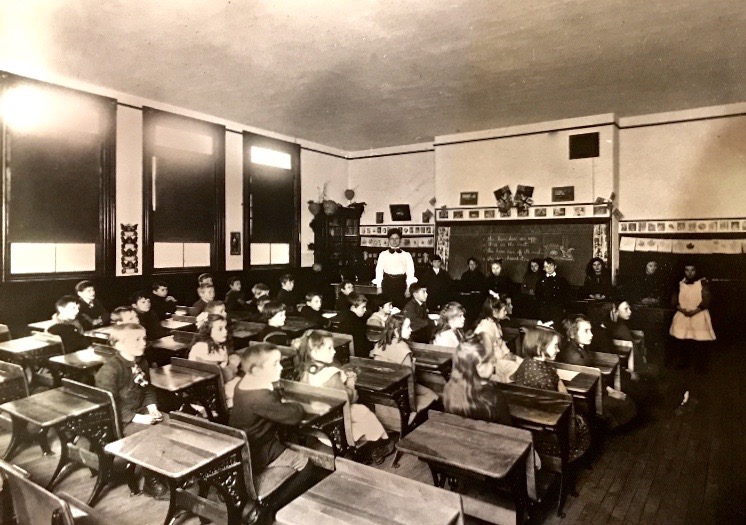 Miss Stewart's primary class
Robertson likes the building but is concerned with its high cost. At $25,000 it is much more than planned. He fears that it will send the wrong message to communities that might consider building their own consolidated school. In the final analysis, Kingston's MCS costs Macdonald the least of the four schools that he funds.
The local citizens are rightly proud of their new school. They join in both its formal opening and its grand openings.