MCS in Kingston is the only one of Macdonald's four consolidated schools still in operation.  The focus today is teaching students to become productive global citizens.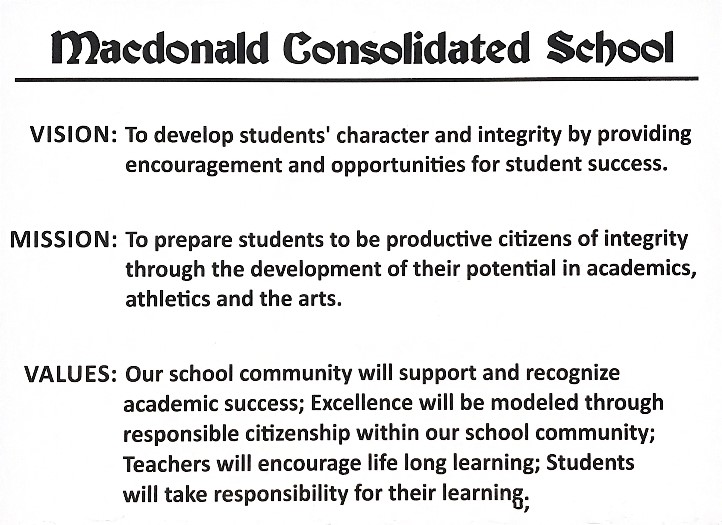 MCS offers a richness of learning opportunities. The curriculum includes Kindergarten, French Immersion, and Computer Technology.
Students are taught to understand nature and to respect the environment. They plant marigolds in spring and clean up the graveyard across the road on Earth Day. The school has its own nature and fitness trail. Team sports encourage physical health and collaboration.  In the playground there are Peer Helpers and a Buddy Bench, initiatives that champion empathy and responsibility. There's an annual Vendor Fair where participating students are challenged to commercialize innovative products
Several student clubs promote sports and artistic endeavours including acting, photography, and music.
MCS has long been at the center of the community. Area churches and organizations work in partnership with the school to support and encourage students. The Royal Canadian Legion Peninsula Branch 62 provides milk for the breakfast program. The Legion also awards prizes and medals to students who create posters for Remembrance Day and Canada Day. Numerous school activities are held at the Trinity Anglican Church. The Baptist Church provides students with a hot lunch every Monday. The Hampton Lions Club awards prizes and certificates to students who create Peace Posters in support of worldwide peace.
The students learn to consider the health of the planet and the value of their own community.  They conduct food drives for the local Food Bank and collect supplies for the Saint John Seaman's Mission. They participate in the Terry Fox Run and raise money for Muscular Dystrophy Research.
Each year groups of students visit sites operated by Kingston Peninsula Heritage to learn about the history of the area. These sites include 1810 Carter House, a nearby tearoom and museum, and the John Fisher Memorial Museum located in the school's basement.