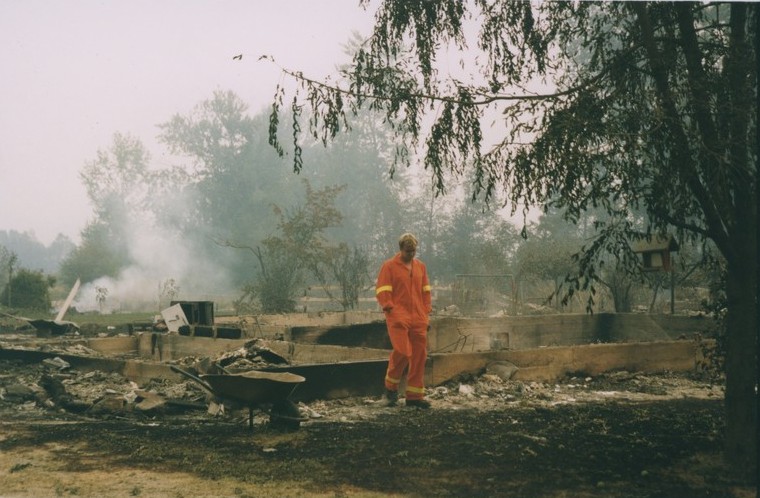 Feature image credit:
James Murray, Salmon Arm Observer, c. 1998
Photo credit:
1. & 2. Gordon Priestman, Salmon Arm Observer, c. 1998
Walking through what was left after the firestorm on Branchflower Road, Eugene Hydamacka just shook his head, disheartened. He'd been working to save other people's homes, but it felt like there was no winning with this fire.
Gary Mott was one of the people who had his property destroyed, but Mott could still manage a smile when asked about rebuilding.
"This is just one more life experience," he told Salmon Arm Observer's Gordon Priestman.
"I think about these things. About 8 years ago it came to me that the world out there is a world I create, and that if I changed my viewpoint, it would change the world I live in," he said.
But Mott wasn't insured and he was disappointed to learn there would be no promise of emergency relief he told the Salmon Arm Observer.
"I don't expect [Minister of Forests Dave Zirnhelt] to replace my equipment and everything I lost. It was my decision not to carry insurance. But I do think [the Government] should assume responsibility for at least the yard clean-up. That's going to cost many thousands of dollars," Mott continued.
"One way or another I'll get back on my feet. You can't just sit in a chair. That's when you die."