Go back
Self-Portrait of Anne Langton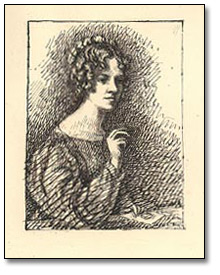 Photo: Peter Oliver.  Image used by permission of the City of Kawartha Lakes Archives.
This self-portrait of Anne Langton was actually a preliminary sketch, completed in 1827.  The sketch was done with graphite on cream wove paper.
Anne Langton recorded her experiences of crossing the Atlantic in the early 1830s to join her brother John in Upper Canada.  A collection of Anne's letters to her older brother William describes their everyday experiences on board the ship "Independence"; their arduous journey up the St. Lawrence to settle at Blythe Farm in Fenelon Falls.  Anne's journal of life at Blythe Farm gave us the basis of our story and Anne's involvement in the establishment of a Church of England in Fenelon Falls, Ontario.