Day 1 – January 5
FIRST WAVE OF FREEZING RAIN – 10 to 20 mm of freezing rain is forecasted, which is expected to only hinder travel.
Day 2 – January 6
Hydro poles snap under the weight of the ice. Transmission towers collapse, halting the transmission of electricity between Nicolet and Boucherville. Schools and daycares are temporarily closed.
Day 3 – January 7
The Saint-Césaire substation fails. Shelters are set up.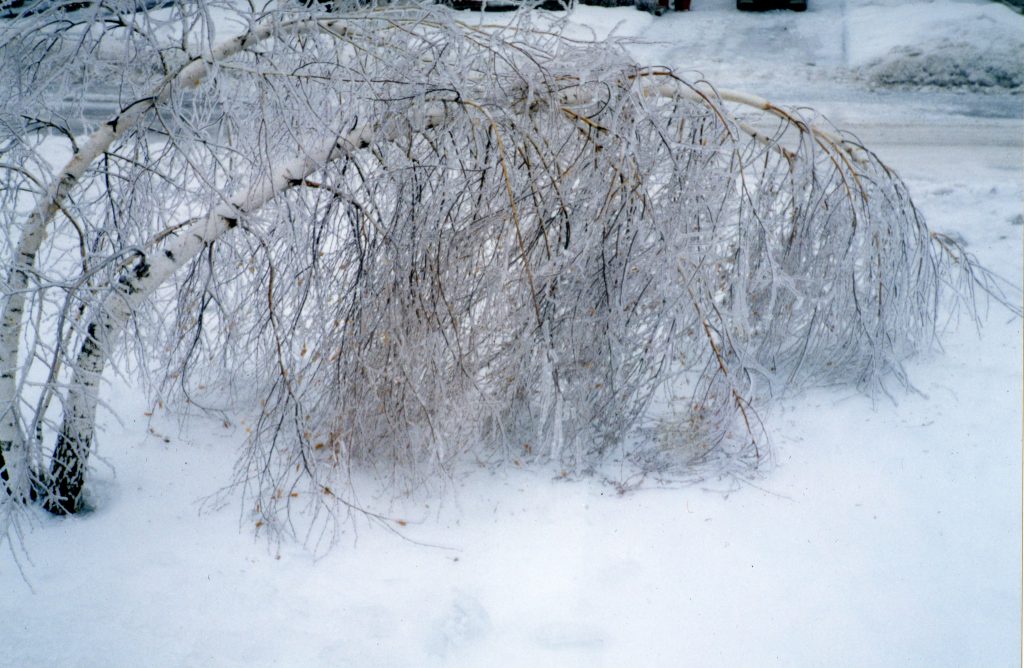 Day 4 – January 8
SECOND WAVE OF FREEZING RAIN – Roughly 2.5 million people (nearly half of Quebec) are without power, mainly in the Montérégie region. The average time without electricity is already over 48 hours. Quebec Premier Lucien Bouchard calls on the Canadian Armed Forces (CAF) for assistance; during the emergency, nearly 12,000 soldiers will be deployed in the region. Hydro-Québec requests help from its U.S. counterparts to restore power.
Day 5 – January 9
THIRD WAVE OF FREEZING RAIN, OR "BLACK FRIDAY" –  The Hertel, Châteauguay and Boucherville substations go offline, along with the Beauharnois generating station. The blackout is widespread and more and more transmission towers crumple under the weight of the ice. The precipitation ends.
Highway links with Montreal are briefly shut down so that workers can remove the ice that has accumulated on bridge structures, which is falling off and creating a hazard. For several days, the only way to cross over to Montreal is through the Lafontaine Tunnel, dimly lit by a single generator.
Day 6 – January 10
Trucks loaded with firewood and blankets arrive from across Quebec.
Day 8 – January 12
The Premier announces a financial assistance program for disaster victims: $10 a day per person.
Day 9 – January 13
The second week without electricity begins. Hydro-Québec estimates that it will take another two weeks to restore power in certain areas, including the "Black Triangle." An intense cold warning is issued. The Premier asks people to leave their homes.
Day 11 – January 15
Helicopter operation to repair transmission line between Montréal and Beauharnois (two linesmen are dropped off by helicopter on top of a transmission tower, 107 m above the ground)
Day 14 – January 18
The situation is improving in Montreal. Schools and universities on the island begin to reopen.
Day 18 – January 22
Saint-Jean-sur-Richelieu residents start to get their power back.
Day 22 – January 26
The Saint-Césaire substation goes back online, giving hope to nearby residents that it will be their turn soon.
 Day 35 – February 8
Power is restored to all of Hydro-Québec's residential customers.