Backup from the Canadian Armed Forces and the Sûreté du Québec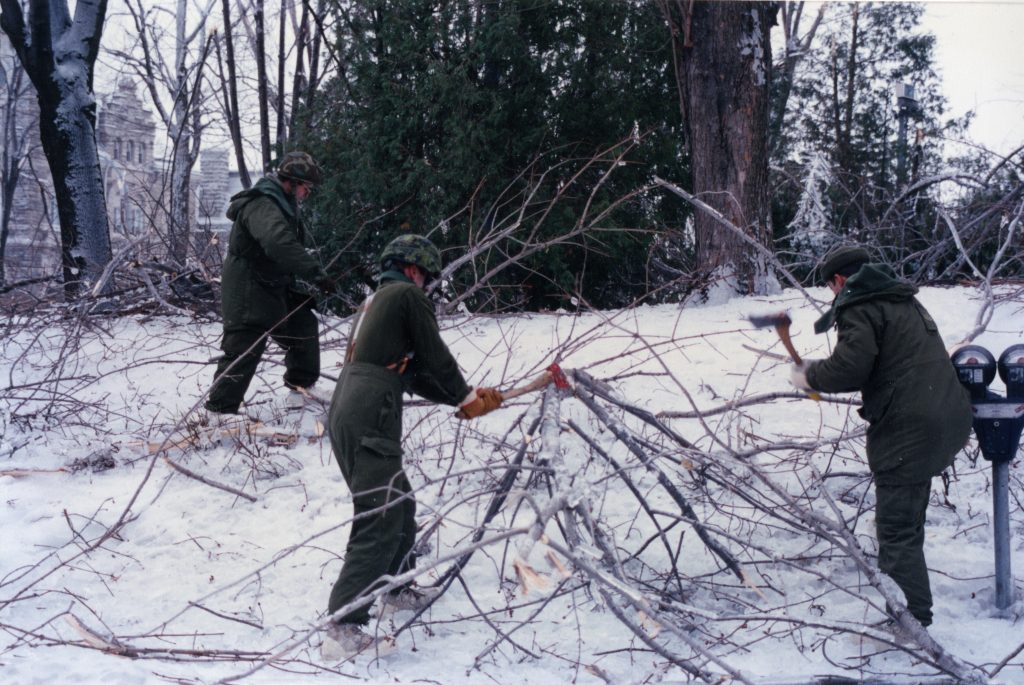 In response to the crisis, the Quebec government activated its emergency plan, calling on the Canadian Armed Forces (CAF) for assistance. In all, nearly 12,000 soldiers were deployed. They had varied tasks, ranging from going door-to-door to evacuate people with unsafe heating equipment to helping Hydro-Québec by clearing away irrevocably damaged equipment and recovering salvageable equipment so that it could be repaired and reused. Only the CAF had trucks that could transport the huge transmission towers. In addition, soldiers were put to work pruning trees and picking up limbs and branches in the streets and parks. In some municipalities, they also looked after distributing free firewood and monitoring basement sump pumps. Since the army units were autonomous and had their own power supply, they could prepare hot meals in their field kitchens, serving victims in such places as Saint-Blaise-sur-Richelieu and Saint-Alexandre. Close to 5,000 soldiers, including their families, were housed in the "Mega" (Général-Jean-Victor-Allard Building)at Saint-Jean-sur-Richelieu, where the CAS headquarters are located.
Watch video with transcription
With the power outages, police forces in the region were also overwhelmed. The Sureté du Québec (SQ) provided essential backup, handling such things as night patrols. The SQ's help was crucial since the evacuated homes provided opportunities for thieves, with some residents organizing their own neighbourhood patrols. The SQ patrolled the pitch-black streets to ensure neighbourhood safety. The residents of L'Acadie, a municipality near Saint-Jean-sur-Richelieu where telephone communications were completely severed, were asked to display a red card in their window if they needed assistance from the SQ patrols, which checked the neighbourhood daily, or a green card if they were fine. The Montérégie region was assigned 1,700 SQ officers and Saint-Jean-sur-Richelieu also received help from 520 officers from the Royal Canadian Mounted Police (RCMP), who also helped with patrols. In addition, the provincial police academy in Nicolet sent over 180 cadets to go door to door to check up on residents and make sure that their heating equipment was safe. The strong presence of military and law enforcement personnel, combined with the ever-present darkness, numerous shortages and the terrifying sound of crashing tree limbs and branches, made many people say that they felt like they were in wartime.