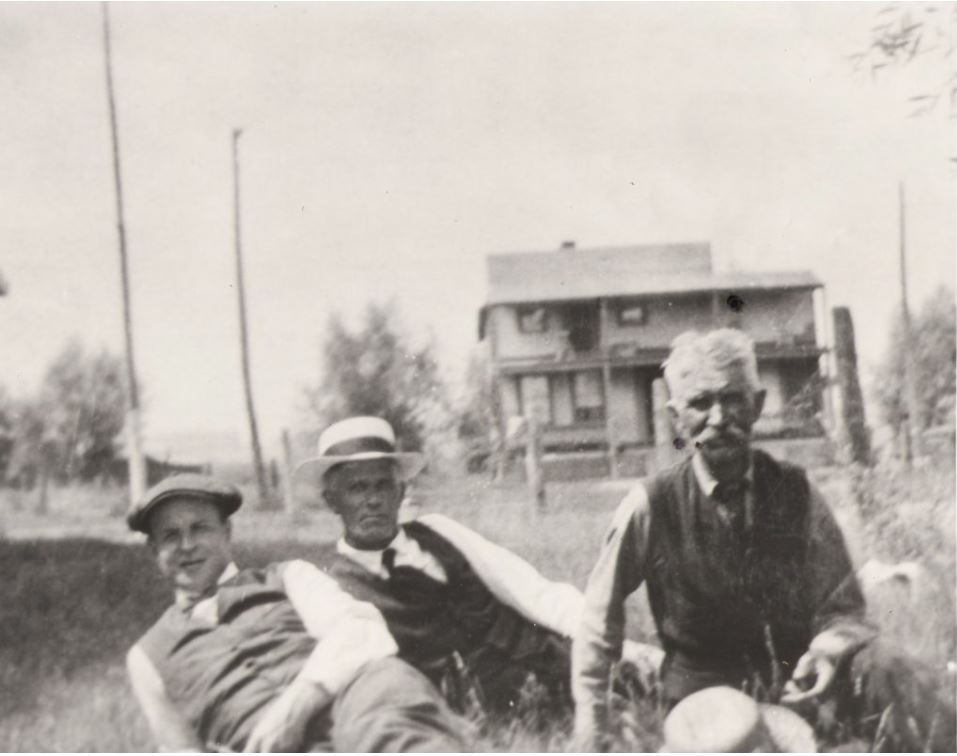 Image
Source: Oshawa Museum, Archival Collection, A989.41.4
Date: 1907
Audio Excerpt
Source: Oshawa Museum, Audio Files, Archival Collection
Date: 1981
Duration:6:04
This is an excerpt from an interview that took place in 1981 with Reginald C. Smith when he resided at the harbour in what was known as the Sailor's Inn. Please note the sound in the audio clip is low, please turn up volume.
Interviewer (unknown): I am interviewing Mr. Reginald C. Smith of 110 Parkwood Road North, apartment 107, Oshawa.
Interviewer (unknown): Uh, Mr. Smith you were telling me that you were born in the house down at the harbour and that this house had been owned by your great-grandparents.
Reginald Smith: *inaudible*. My great-grandparents and it's, it's, rather coincidence but uh, my great-grandparent was Abram Jeffery Smith and my grandfather was Abram Jeffery Smith. And my dad was Reginald Jeffery Smith. So when it came down to me *inaudible* for some reason. Anyways, as I recall as a youngster, our granddad, my great-grandparents were dead by then, but only my grandparents were living. And my grandad, my grandmother had died and my grandad lived, and my mum and dad lived with my grandad in the same house as we owned. And I can only recall down two years, that as kids growing up, grandpa's bedroom was on the front end, on the south side of the house. And my mother wanted something, she'd always say to kids 'well, clean grandpa's, clean the bar room and get something.' So in this sense I was always wondering why they'd call it the bar room. I under-, I understand from my mother and talking to my grandfather that, years ago, this had been a hotel. Or, a beer room or whatever you want to call it, in those days. And this particular room was what the bar was in. *inaudible* in the basement, at the time we were kids growing up, the bar was in the basement and used as a work bench. We could never understand what it was, but then when they explained to us what is was so. That information that we, that, I recall and, that's what it was, it was a beverage room, if you want to put it that way, and the beverage room was in the front of the house. And uh, I spied Mr. Hand with a copy, a picture of this house. That I believe he and Toronto records would show, and this is what it was, back in those years. But uh, we lived there, we were all born, my, my, my two sisters, three sisters and I were born there and raised there. And we lived on the lake all our lives until 1955. My dad, uh, he commercial fished, for many years in Oshawa. And as I recall my grandad, who was Captain Andrew Jackson, he was harbour master for many years. At Oshawa. And uh, Limon, no, uh, Lloyd Kipper, I think, Lloyd Kipper in later years in Tampa, asked a man who was not Abram to care for it, 'take over it, would'ya?'. Well Lloyd here was the legally appointed harbour master by the federal government. And has been in a number of appointments with them. So, that's how uh, we were connected to the harbour, that time.
Interviewer (unknown): I believe your grand, great-grandfather owned property along the beach side of the harbour as well as where his house was located, is that right?
Reginald Smith: That is correct. He owned a property on the beach side. By the lake front, *inaudible* his place. And then there was one, two, three, four, there was about six houses facing the lake front. My grandpa *inaudible*. And down two years why, uh, before my grandfather died, he, the property was, uh, broken up into parts so that eventually to would come to *inaudible* sons and daughters. And then, we had occasions where eventually uh, my mother, my mother passed away, my mother fell heir to what was left of my father's. Les McNealy, who was then a lawyer, and Mark McNealy, why, he handled the business for us on selling the properties to the city. And of course the selling was at the week there, the concession was all conceited and sold, why, he brought to our attention that our lead cover on the lake front of the property for the water rights and falls. And uh. And of course the town, I tried to make a deal with the city to finance the cost of looking up the heirs, just so we could make some kind of deal of *inaudible* for them, or *inaudible* be paid for. But as soon as they took a copy up there that, the water rights *inaudible*, still owned by the heirs down through the years, still owned by the heirs who are still living. And the city-
Reginald Smith: R. Smith of the Smith Family. And the city of Oshawa still haven't uh, finalized that part of it. So I have a file showing that they, we still own the water lake and the city owns the property but not the water lake. And thats what stands today.