Go back
View of Gillies Bros. First Mill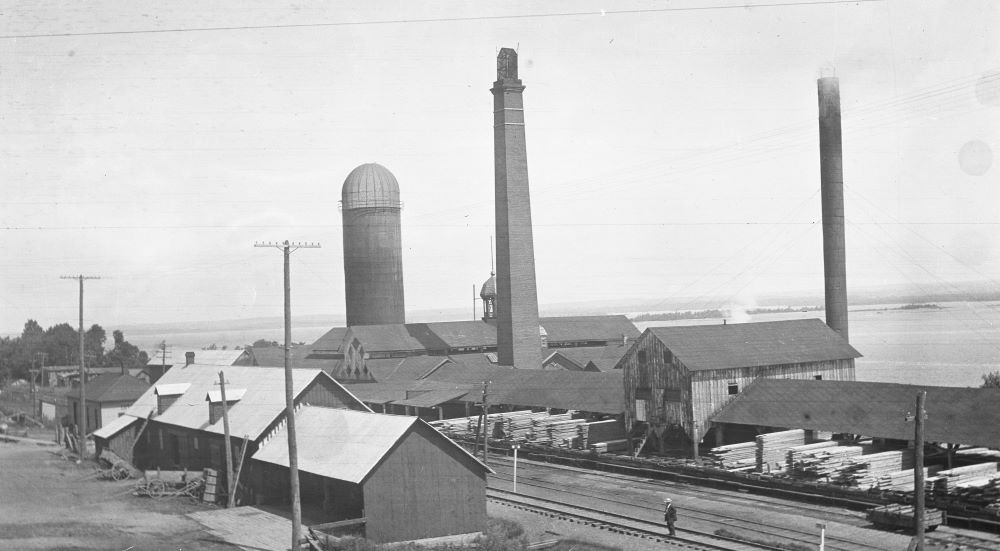 2008-0233 Handford Studio Collection, Arnprior & McNab/Braeside Archives.
Renfrew photographer Gus Handford documented the Gillies Bros. Mill and surrounding buildings circa 1900; prior to the fire that completely destroyed it in June 1919.
In 1893 Gillies expanded their operation at Braeside. Circular saws were replaced with more efficient band saws which increased annual production to 35 million board feet. This view shows a large complex of buildings located along the main railway line in about 1900.
The first row of buildings left of the man standing on the track are (from back to front): lumber sheds, an oil house, the Canadian Pacific Railway station, a storage shed (with two dormer windows) and drive shed.
The second row of buildings (from right to left) includes: a sorting table, lathe mill, sorting table, brick chimney, saw mill with cupola (built by Usborne) and a bullet nose refuse burner.