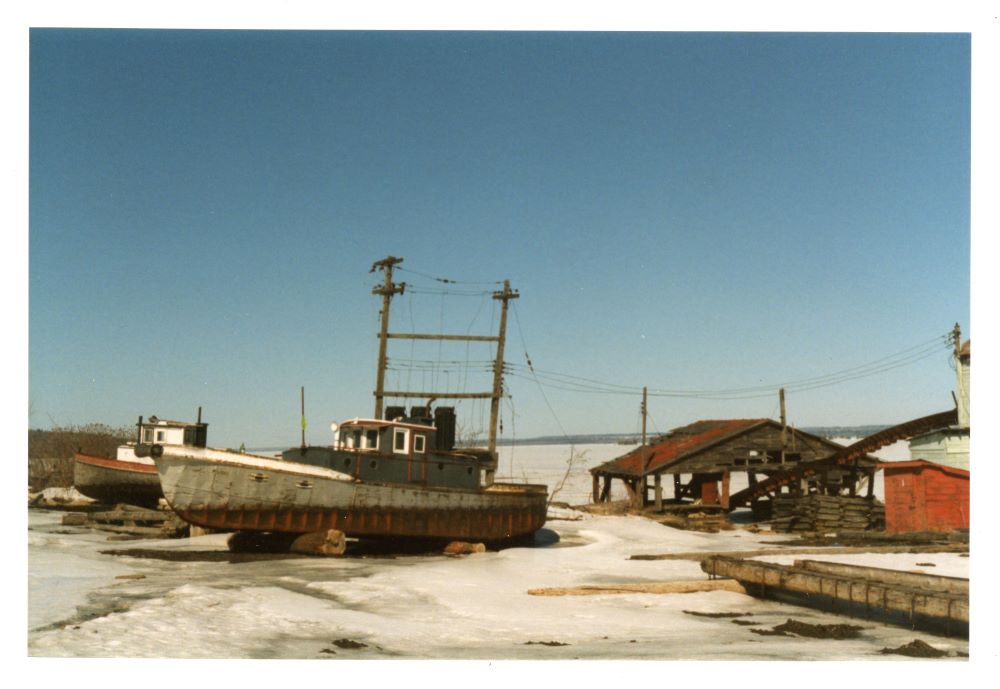 2019-0397 Patrick Newton fonds, Arnprior & McNab/Braeside Archives.
Two old tug boats are stored for winter beside Gillies Bros. jack ladder, circa 1980.
The jack ladder was a chain and teeth device used to transport logs from the river into the mill. The sharp teeth were situated along a moving chain in the centre of a trough. The bottom part of the ladder was hinged so that it could rise and fall depending on the water level of the Ottawa River. The original mill (1873-1919) had two jack ladders in operation.
In the new mill (1921-1992), the log scaler stood at the top of the ladder where he could check for the Gillies log mark on the ends of the logs. His main responsibility was to decide which saw would cut the log, which was determined by the size of the log itself.
The mill had a 'big rig' (large capacity) carriage on one side of the mill and smaller log carriers on the other side. Logs were sent one way or the other to be cut. With the press of a button, the steam driven 'kicker' would shoot the log onto the chain-driven log decks which fed the log carriers.