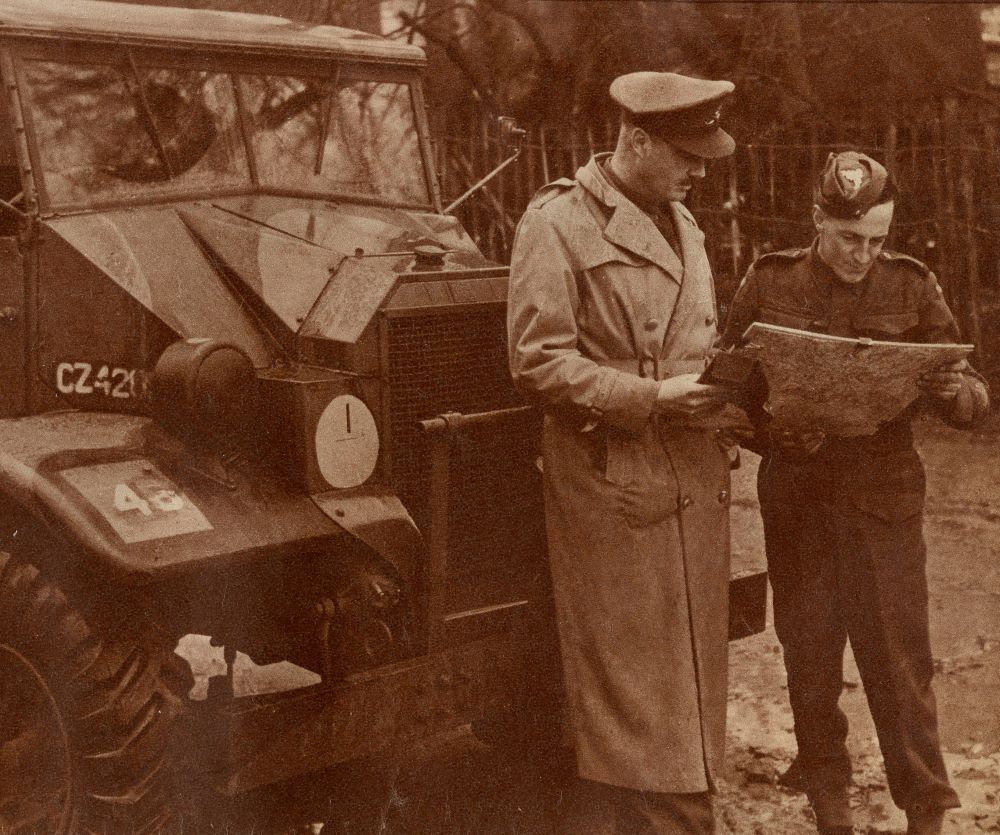 1995-0060 Gillies Family fonds, Arnprior & McNab/Braeside Archives.
A clipping from an unknown publication shows Major John A. Gillies (left), commanding officer of a Canadian anti-tank battery in Britain, with Sergeant Major Paul Trudel, circa 1942.
Several members of the Gillies family and a long list of Gillies Bros. employees served the Canadian military in both world wars.
Brigadier John Albert Gillies (1906-1970) rose through the ranks in WWII and was awarded the Order of the British Empire (O.B.E.) while serving as Lieutenant Colonel of the 7th Canadian Anti-tank Regiment in Italy. His brother, Major Norman Bain Gillies (1912-1992) served in England during WWII with the Royal Canadian Engineers.
Their first cousin, Lieutenant Colonel Austin Bain Gillies (1882-1938) was awarded both the O.B.E. and the Medal of Honour with Vermillion Swords for his service in the Canadian Field Artillery in WWI. He worked as Woods Manager for Gillies Bros. before and after the war.
Gillies Bros. Ltd. donated $1000.00 to the Arnprior & District Memorial Hospital in December of 1946. They were the second largest donor to the fundraising campaign for a new hospital being built in Arnprior, to honour local veterans.