Go back
Main Street Braeside circa 1905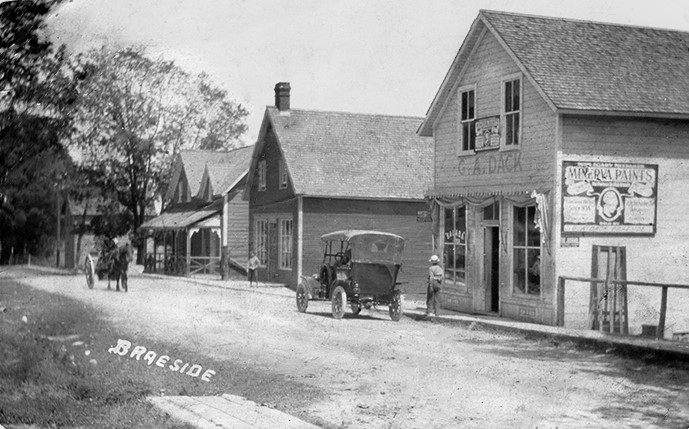 1993-0007 Braeside Women's Institute fonds, Arnprior & McNab/Braeside Archives.
Postcard shows main street Braeside circa 1905, when George Arthur Dack was renting a store from Archibald McKinnon.
According to several sources, Braeside was named by Mrs. George Neilson, a woman of Scottish heritage who moved to Arnprior in 1867. 'Brae' means hill in Gaelic, so the name Braeside perfectly described the village which emerged on the steep hill behind the saw mill.
Reverend Henry Usborne, a lumberman from Portage-du-Fort purchased the site which became the village of Braeside in 1869. He  built a steam saw mill at the base of the hill which James, William, John and David Gillies of Carleton Place purchased in 1873. Through careful management, the family firm prospered and the village was sustained by that success.
Fast-forward to 1973. The main street of Braeside was home to several family businesses including Rafter's Gas Station, Bethune's TV and Appliance Store, Leitch's Grocery Store and Perreault's Home Furnishings. People in the village still had to go into Arnprior to bank, pay a visit to Farmer's Shoe Store or buy a vehicle, but otherwise the village was practically self-sufficient.
Today, most people drive through Braeside on their way to somewhere else. Unless they stop at the postal outlet, shop for furniture at Braeside Home Furnishings or lunch at Betty's Chips, they miss the opportunity to experience the charm of this hillside Village.
For more information about history of Braeside from 1869-1950, please consult the Braeside Women's Institute Tweedsmuir History Book 4 available at www.collections.fwio.on.ca