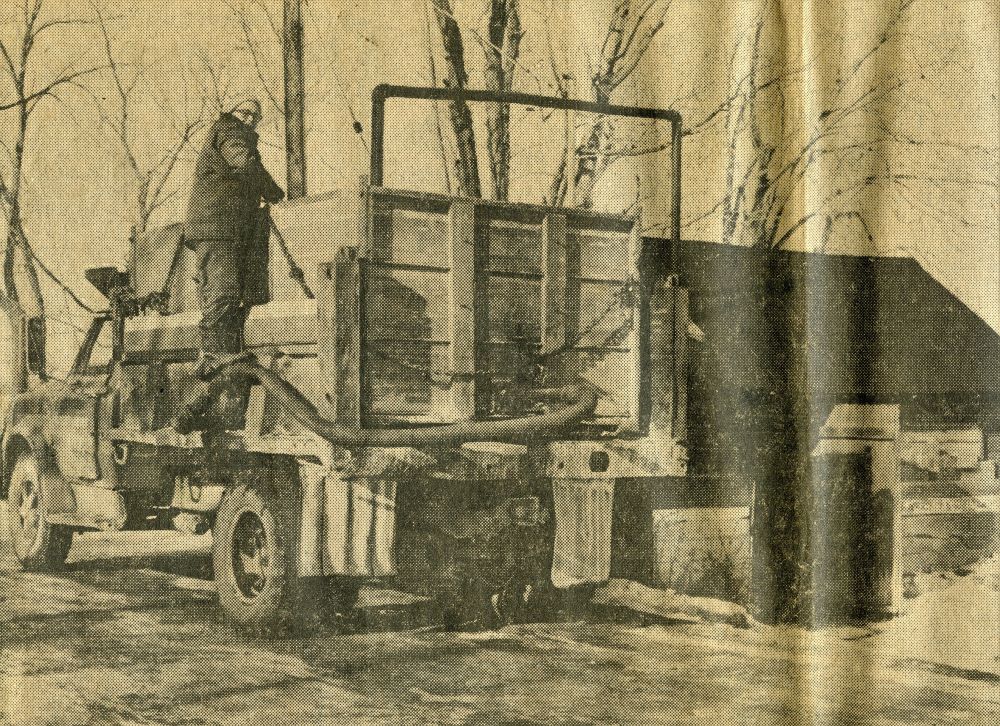 2014-0338 Joanne Clouthier fonds, Arnprior & McNab/Braeside Archives.
Arnprior Journal clipping from February 8 1980 shows Gerald Desjardins filling his water truck at the pump house located at the Braeside Beach.
Gerald Lucien Desjardins (1915-1989) was one of fourteen children born to Armidas and Marceline Desjardins. The Desjardins family moved from Buckingham Quebec to Braeside in 1913. Gerald joined the Royal Canadian Artillery in 1942 and was wounded in France the same year. He married Theresa Madore (1926-1985) in 1945 and raised two daughters; Geraldine and Joanne.
Gerald started hauling water for the Municipality of Braeside in 1951 using a rented horse (from Gillies Bros.) with a water box attached to a sleigh. This same method was used by Paddy Gahan in the early 1900's when he carted water for 25 cents per 45 gallon barrel.
Gerald started using a truck for deliveries in 1955.  He could haul 1800 gallons of water in a watertight, wooden box mounted on the back of his truck to more than 30 customers throughout the village of Braeside. Pumped from the Ottawa River using a 20 horsepower motor, the water was for washing and bathroom use only.
A retirement dinner was given in Gerald's honour in January 1981 where his 30 years of service to the community was celebrated with family and friends.