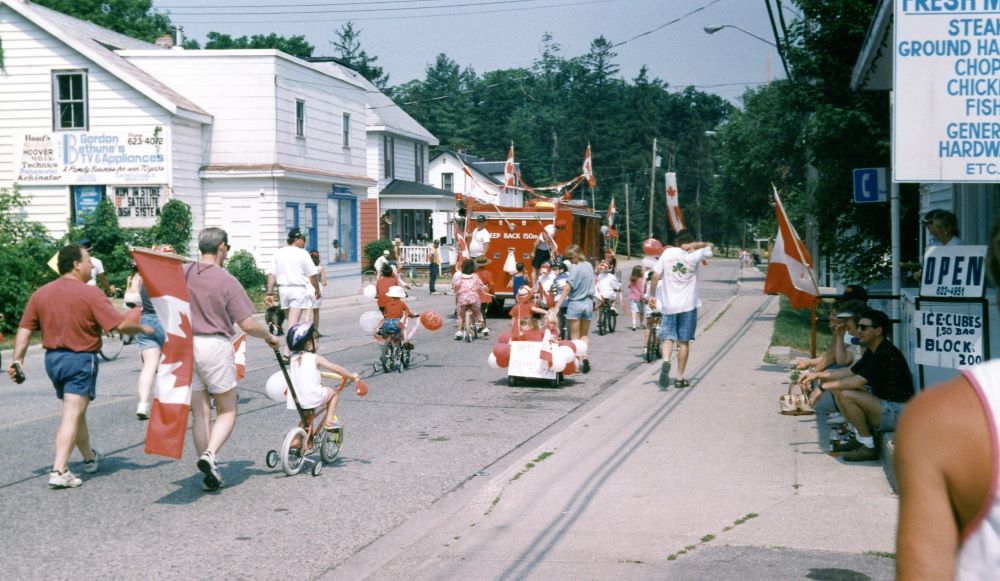 1994-0021 Peter Hessell fonds, Arnprior & McNab/Braeside Archives.
Friends and family gather for the annual Canada Day parade in Braeside, 1997.
After Gillies Bros. improved capacity at the original mill in the mid 1890's, the population in Braeside was a healthy 250 residents. The census of 1901 indicated the population of Braeside had doubled to 500. When the last log boom floated down the Ottawa River to Braeside in 1991, the population in the Village was 562.
By that time, the congregation at Our Lady of Perpetual Help was holding mass in their new church on the eastern edge of the village. It replaced the original Roman Catholic Church on the hill, which opened in 1939.
By the late 1990's, Braeside saw the addition of a sprawling sub-division called Dochart Estates. This expansion injected new dollars and introduced new families into the Village. Several stores were still operating along the main street including Robbin's Confectionary, Leitch's General Store, Gordon Bethune's TV & Appliances Store, Audrey's Clothing Store and Braeside Home Furnishings.