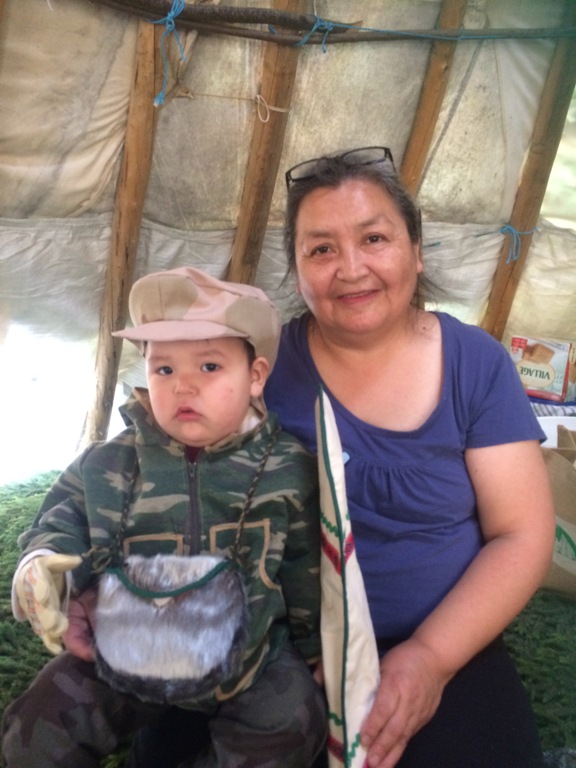 Interview with Mary V. Georgekish, collection of the Wemindji Culture & Wellness Department
Date: April 2018
Photo:  Mary in the teepee at her family camp. Her grandson Xavier is wearing an outfit Mary made for his Walking Out ceremony.
Date:  2017
Okay. My name is Mary Visitor Georgekish and I'm a hard-working woman, aah (laughter).  I work at the Cree Language Program.  I like to be…I like going to the bush.  I try to go there as much as I can. That means I go on weekends with my husband, my Aunt Maudie, or my mum sometimes – when she's not sick.
When I go to my camp I feel peaceful, no loud music, no television, nothing (laughter) – it's very peaceful there.
So, we go hunting, for whatever is there, like white birds, or we set up our fish net.
We go hunting to provide food for my mother because she's old. She doesn't like store food.  She would rather have wild food, so we have to get it for her.
We go Friday after work and then we come back on Sunday evenings.
Interviewer:  Would you like to live there all the time?
Ooh yes I would like to live there. (pause)  But we have long weekends sometimes so I get a chance to go then.
ᐋᑰᑖᐦ᙮  Akuutaah. (Done? Okay, bye.)