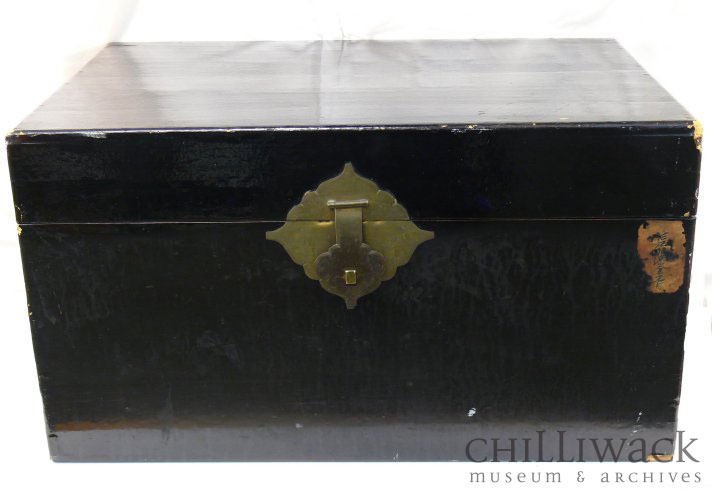 Date: 1900
Credit: Chilliwack Museum and Archives, 2007.005.001
This lacquered wood storage trunk was brought to Canada from China around 1900. It belonged to the family of Chung Bing Kee (1868–1939) and Lim She Chung (c.1896–1937), and was most likely used to carry their family jacket. The right side of the trunk has a 7 x 4 cm patch of darkened/burnt paper with unidentified Chinese characters.
Chung Bing Kee came to Canada from Guangdong Province, China, arriving in Victoria, BC, on April 8, 1886. He left behind his first wife and children. Lim Shee Chung arrived in Vancouver on February 10, 1912. The couple was married February 15, 1912. They settled in Chilliwack and had eight children: Walter, Harry, Eileen, Charley, Joseph, Evelyn, Alice and Dorothy, who attended Robertson Secondary School, and later, Chilliwack High School.
Chung Bing Kee, a trained physician, bought property in Chinatown South and opened an herbal medicine and general store c. 1922. The family home and business were lost in the fire of 1934.
While Joseph and Harry moved to Vancouver, the remaining children of the Chung family thrived in Chilliwack. Harry and Walter owned and operated a successful trucking business. Charlie was a Special Forces volunteer during World War II. In 1970, Dorothy Kostrzewa (Suey Nan Chung) became the first Chinese-Canadian woman elected to city council in Canada, holding office in Chilliwack for 21 years.