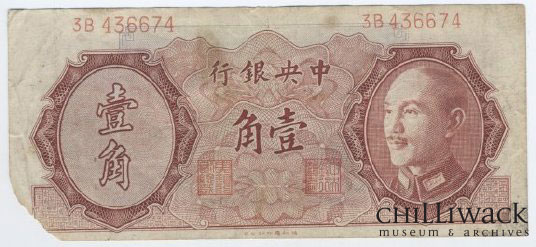 Date: 1912-1949
Credit: Chilliwack Museum and Archives, 1988.039.002b
10 cent currency used by employees at the B.C. Hop Company, many of whom endeavored to send money to family in China.
During World War I (c. 1914) there were around 120 Chinese men working for the B.C. Hops Company in Sardis (where Cottonwood Mall stands today).
The currency was issued by the Central Bank of China.
Fact or Fiction activity answer:
FICTION –  The Masonic Hall doubled as a place of worship for the local community and the central governing institution in Chinatown, operating as mediator and judge, establishing rules for doing business, controlling gambling and the opium trade and raising money for causes in China. The Masonic Hall also served as the community's hostel, job finding centre, and it also operated a small hospital and rest home in an annex at the rear of the building.