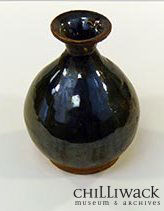 Date: unknown
Credit: Chilliwack Museum and Archives, 1957.038.001
Roughly manufactured ceramic bottles of this type were used for the storage of liquids. This type of bottle is commonly referred to as a "Tiger Whisky" bottle, referring to the alcoholic beverages imported from China in the early 20th century.
Original museum documentation indicates that this jug was found in Barkerville.