Go back
Letter from Roy to his Father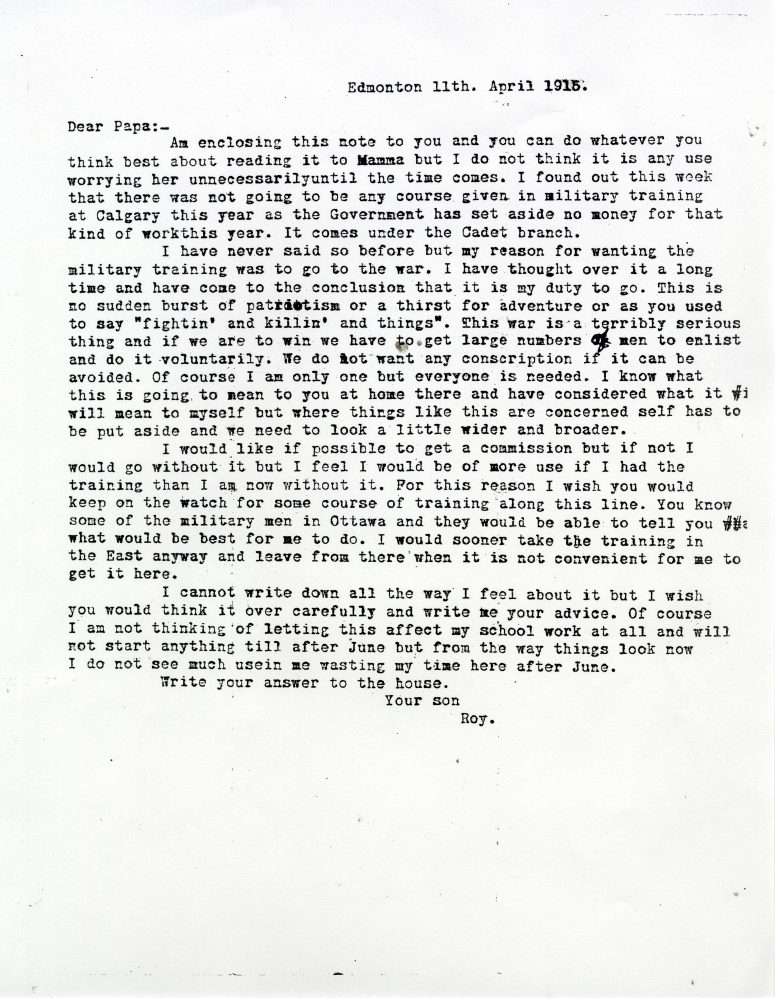 Letter courtesy of the Roy Brown Society.
In this typed copy, Roy explains to his father his reasons for wanting to join the military and asks for his advice and guidance.
Transcript:
Edmonton 11th April 1915
Dear Papa:
Am enclosing this note to you and you can do whatever you think best about reading it to Mama but I do not think it is any use worrying her unnecessarily until the time comes. I found out this week that there was not going to be any course given in military training at Calgary this year as the Government has set aside no money for that kind of work this year. It comes under the Cadet branch.
I have never said so before but my reason for wanting the military training was to go to the war. I have thought over it a long time and have come to the conclusion that it is my duty to go. This is no sudden burst of patriotism or a thirst for adventure or as you used to say "fightin' and killin' and things". This war is a terribly serious thing and if we are to win we have to get large numbers of men to enlist and do it voluntarily. We do not want any conscription if it can be avoided. Of course I am only one but everyone is needed. I know what this is going to mean to you at home there and have considered what it will mean to myself but where things like this are concerned self has to be put aside and we need to look a little wider and broader.
I would like if possible to get a commission but if not I would go without it but I feel I would be of more use of I had the training than I am now without it. For this reason I wish you would keep watch for some course of training along this line. You know some of the military men in Ottawa and they would be able to tell you what would be best for me to do. I would sooner take the training in the East anyway and leave from there when it is not convenient for me to get it here.
I cannot write down all the way I feel about it but I wish you would think it over carefully and write me your advice. Of course I am not thinking of letting this affect my school work at all and will not start anything till after June but from the way things look now I do not see much use in wasting my time here after June.
Write your answer to the house.
Your son
Roy.