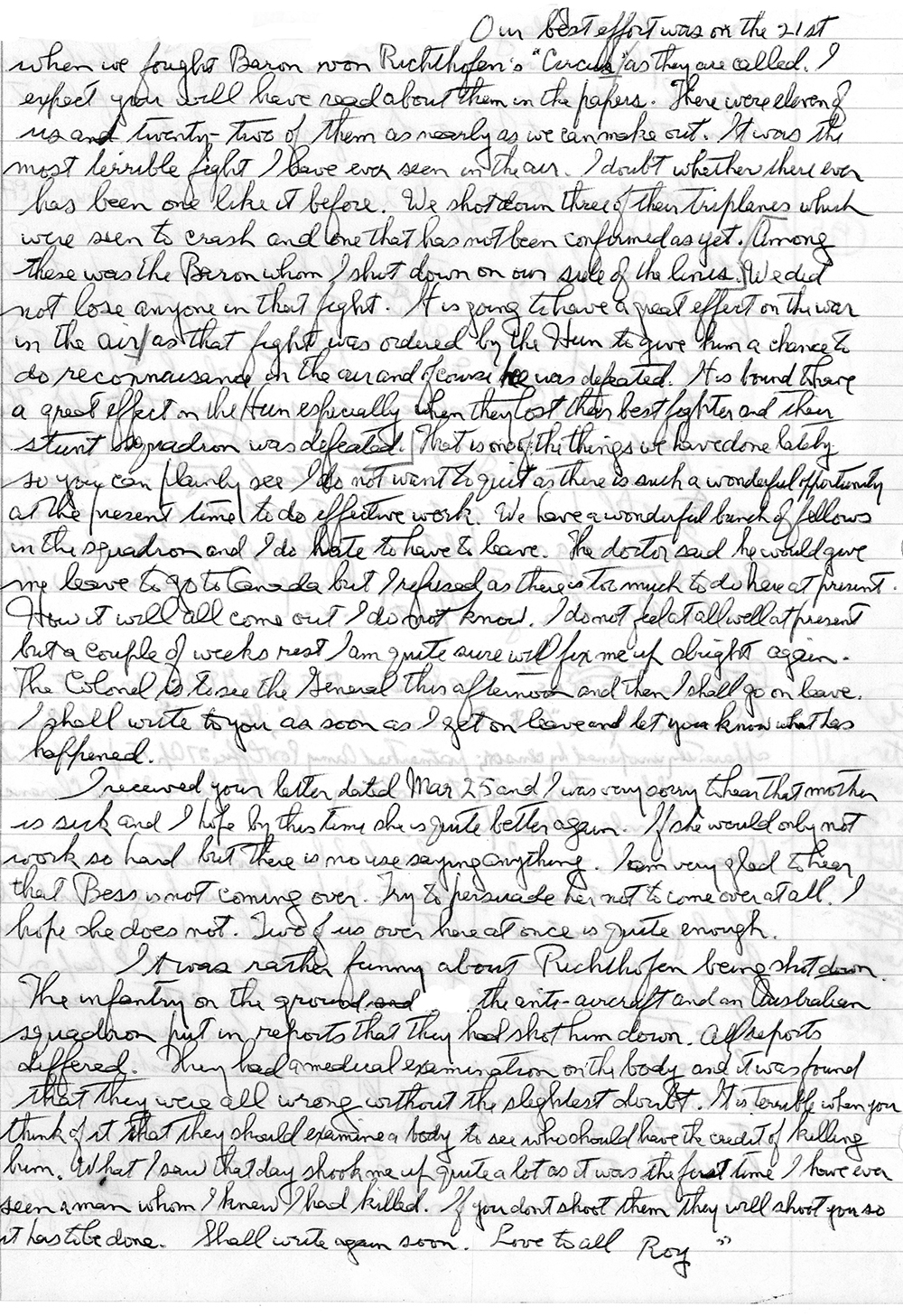 Letter courtesy of the Roy Brown Society.
A copy of a letter from Roy to his father in which he discusses the events of April 21, 1917. He expresses the horror of being forced to know exactly who it was that he had killed.
Transcript:
27 April 1918
. . . Our best effort was on the 21st when we fought Baron von Richthofen's "Circus" as they are called. I expect you will have read about them in the papers. There were eleven of us and twenty-two of them as nearly as we can make out. It was the most terrible fight I have ever seen in the air. I doubt whether there has ever been one like it before. We shot down three of their triplanes which were seen to crash and one that has not been confirmed as yet. Among these was the Baron whom I shot down on our side of the lines. We did not lose anyone in that fight. It is going to have a great effect on the war in the air as that fight was ordered by the Hun to give him a chance to do reconnaissance in the air and of course he was defeated. It's bound to have a great effect on the Hun especially when they lost their best fighter and their stunt squadron was defeated. That is […] the things we have done lately so you can plainly see I do not want to quit as there is such a wonderful effort at the present time to do effective work. We have a wonderful bunch of fellows in the squadron and I do hate to leave. The doctor said he would give me leave to go to Canada but I refused as there is too much to do here at present. How it will all come out I do not know. I do not feel at all well at the present but a couple of weeks rest I am quite sure will fix me up alright again. The Colonel is to see the General this afternoon and then I shall go on leave. I shall write to you as soon as I get on leave and let you know what has happened.
I received you letter dated Mar 25 and I was very sorry to hear that mother is sick and I hope by this time she is quite better again. If she would only not work so hard but there is no use saying anything. I am very glad to hear that Bess is not coming over. Try to persuade her not to come over at all. I hope she does not. Two of us over here at once is quite enough.
It was really rather funny about Richthofen being shot down. The infantry on the ground, the anti-aircraft and an Australian squadron put in reports that they had shot him down. All reports differed. They had a medical examination on the body and it was found that they were all wrong without the slightest doubt. It is terrible when you think that they should examine a body to see who should have the credit of killing him. What I saw that day shook me up quite a lot as it was the first time I have ever seen a man whom I knew I had killed. If you don't shoot them they will shoot you so it has to be done.
Shall write again soon.
Love to all
Roy