Go back
The Beaver Hall Group in the spotlight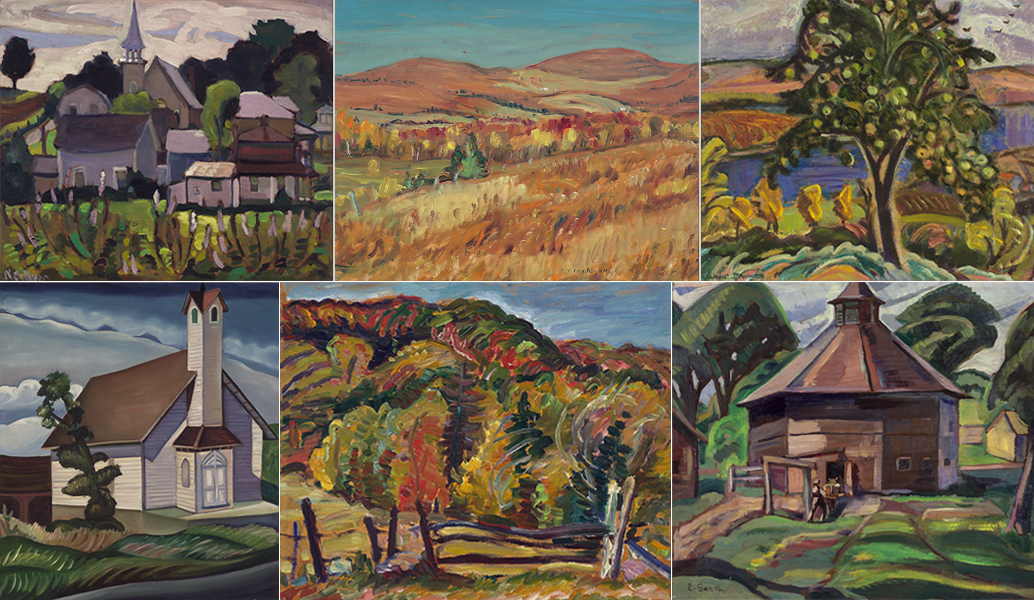 Credit: Bruck Museum, Bruck-Lee Collection
From left to right: Nora Collyer, A. Y. Jackson, Anne Savage, Prudence Heward, Sarah Robertson, Ethel Seath.
The Bruck-Lee Collection is characterized by its affiliation with the Cowansville Art Center which from the 1950s to the end of the 1970s was a prestigious cultural hub. It features several artists associated with the Beaver Hall Group, founded in the early 1920s by A. Y. Jackson, also a founding member of the Group of Seven. The women painters associated with this group are now recognized and several of them have signed works from the Bruck-Lee collection including Prudence Heward, Nora Collyer, Sarah Robertson, Anne Savage and Ethel Seath.
The works in this image are in order, from left to right: Foster Village, by Nora Collyer, Hills of Bolton Glen, by A. Y. Jackson, Apple Tree, by Anne Savage, Old Church, by Prudence Heward, Autumn, by Sarah Robertson, Octagonal Barn, by Ethel Seath.