Go back
Statue of Notre-Dame de la Garde, Sainte-Jeanne-de-Chantal Catholic church, Notre-Dame de l'Île Perrot, 2011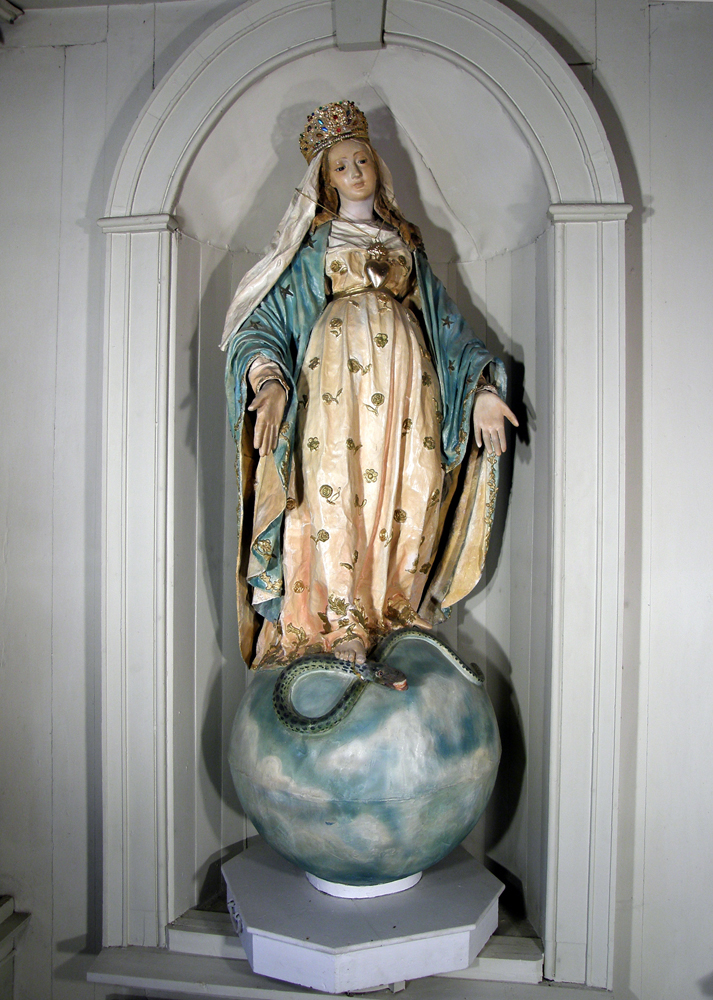 © Bernard Bourbonnais, 2011 – Musée régional de Vaudreuil-Soulanges
The Notre-Dame-de-la-Garde statue is the second one crafted by the workshop of the Grey Nuns of Montreal. It is made of papier mâché and measures 5 feet 11 inches, including the globe upon which she stands.
This statue was donated to the Sainte-Jeanne-de-Chantal parish to thank the priest, abbot Charles-Joseph Huot, for his contribution in 1848 with regards to the restauration of the Notre-Dame-du-Bon-Secours chapel in Montreal. It arrived by boat from Montreal to Île Perrot on June 19th, 1849. The seigneur at the time, Joseph D'Aoust, had a canopy of vegetation set up where it spent the night, around two kilometers east of the church. The next day, Mgr Ignace Bourget bishop of Montreal, and many important ecclesiastic dignitaries brought the statue to the church where it was consecrated. It was named Notre-Dame-de-la-Garde, patron of sailors and travelers. During the evening, fireworks lit up the whole island.
Even today, each year, parishioners remember this event with a celebration in its honor.