Summer theatre, youth hostels and exhibitions
La Butte à Mathieu was not only an important cultural site of the 1960s and 1970s, it was also an exceptional incubator of creativity and inventiveness. It was here that careers and ideas were born that would make important contributions to Québec culture.
The well-loved Raymond Lévesque, actor and singer-songwriter, was one of the most solid creators on which the success of the Butte was based. Every year during summer, he created up to three revues with his troupe. One was for performance, one for rehearsal and one for creation. And thus did the Butte also become a summer theatre.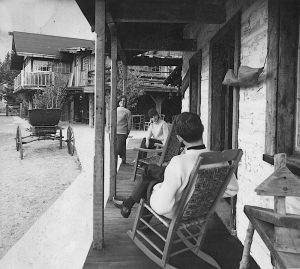 During Expo '67 in Montreal, the Butte à Mathieu became a cultural pilgrimage site for visitors. A Montreal student union of the time asked Gilles Mathieu to host thousands of young people from France and elsewhere. Large dormitories were immediately set up as youth hostels.
In 1968, a large exhibition was organized on the grounds of the Butte, bringing together some fifty artists and craftspeople from Val-David. This was the beginning of a long tradition that continues to this day.