Go back
Private William Ernest Merkley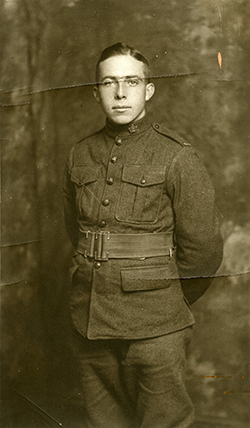 Pte. Merkley
Ca. 1915. LLCA.
CEF no. 123248
Merkley was born in North Dakota (USA) on 27 September 1895 and grew up in London, ON. He attended St. George's Public School and London Collegiate Institute. Starting in 1912, he worked at London Life Insurance Company as a junior clerk and in the Supply Department. He served a year with the 7th Field Engineers before enlisting in the 70th Canadian Infantry Battalion on 11 September 1915. Posted to France in 1916, he served in the 18th Btn.'s machine gun section. During an attack on Guemappe on 26 August 1918, he was shot through the head. His coworkers back home remembered him as "loyal and absolutely dependable."
He is commemorated on page 470 of the First World War Book of Remembrance (Memorial Chamber, Peace Tower, Parliament Hill).
Grave: unknown.
Commemorated on: Vimy Memorial, France.