Joining Great Lakes Superior and Huron, a tremendous flow of water moves through the St. Mary's river. A seven meter fall in elevation creates a series of rapids a kilometer and a half across. The shores of these rushing waters have been home to the Ojibwa Anishnaabe people since time immemorial.  The rapid currents created an ideal habitat for spawning fish, and the waters were thick with whitefish and trout.  A skilled fisherman in a canoe armed with a dip-net could fill his vessel with fish in less than an hour.  When smoked and dried this catch provided a nutritious food source that would last through the long winter.
While local fishermen were the most skilled, Anishnaabe from hundreds of miles away would gather at the Rapids, known as Bawating, every summer.  The rapids became an important political meeting place. After European contact in the 17th century, Bawating became a natural destination for French missionaries and fur traders.
In the 18th century a canoe lock and trading post were constructed by the Northwest Company to ease transit through the Rapids and facilitate trade with the local residents.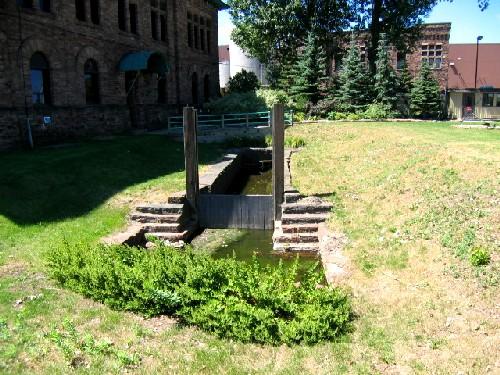 Later, a full lock system was built on the Canadian and American sides of the St. Mary's to allow large vessels safe passage into Lake Superior.  This tremendous construction project attracted hundreds of workers, and the town of Sault Ste. Marie grew to accommodate their needs. A railway bridge was also constructed, directly linking Northern Ontario to the American rail network.
When these great projects were completed, Sault Ste. Marie was linked to the world by modern transport. Without industry, its citizens derived few benefits. The town shrank substantially with the construction workers departure.  An economic depression ensued as the town had no apparent commercial purpose. The bit of commercial fishing and tourism that remained was not sufficient to support the city.
Local Sault businessmen commenced construction of a hydroelectric generation station. A collapsed wall and insufficient construction capital meant the project did not reach completion. By 1894, Sault Ste. Marie was in such a perilous financial state, available tax revenues barely serviced interest on its debts.