Go back
The Fort Lorette missionary outpost in Sault-au-Récollet (1696–1721)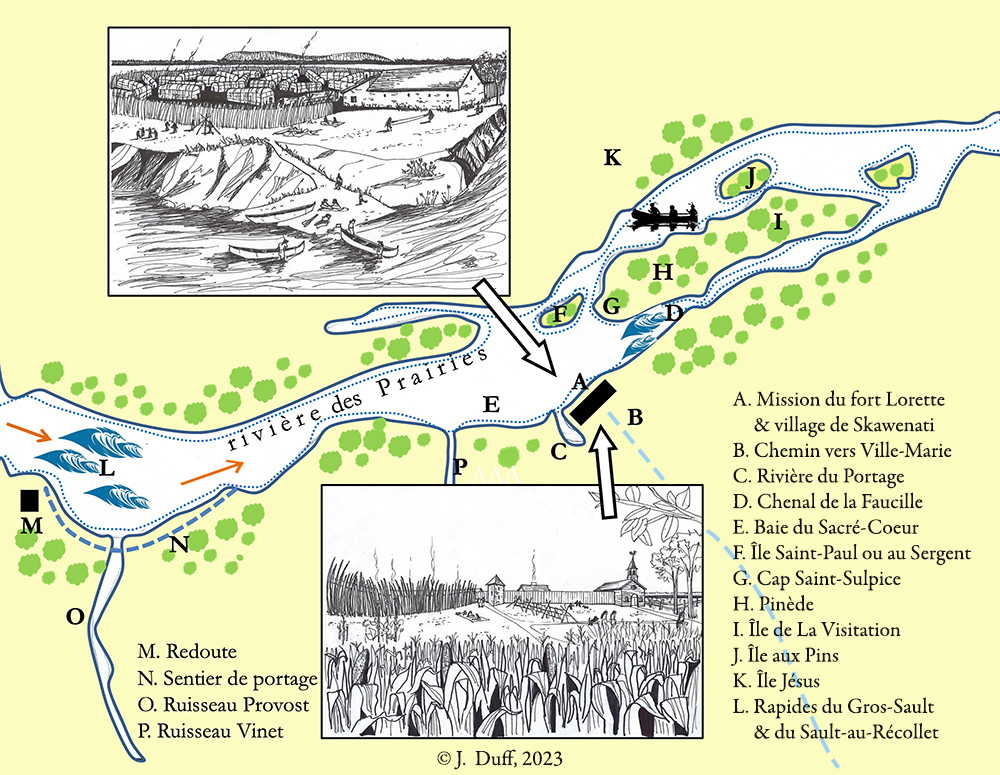 Graphics © Jocelyn Duff, 2023.
This is a representation of the geographical context of the missionary outpost of Fort Lorette in Sault-au-Récollet (1696–1721) made by Mr. Jocelyn Duff, Architect and member of the Société d'histoire d'Ahuntsic-Cartierville.
On the left of the background illustration we see, up the river, the Gros-Sault rapids, which imposed a portage to canoers who had to go around them by land. On the right: perhaps it would have been easier to bypass La Visitation Island by canoe, but there were rapids there also, albeit smaller ones. The rise of the river's water level following the construction of the Des Prairies River's hydroelectric power plant circa 1929 flooded the rapids.
Recent digs have confirmed that the mission of Nouvelle-Lorette was close to the shore. Two theories deserve consideration regarding the First Peoples' village. Was it south of the fort, or further inland? It is also possible that it was on the shore upstream from the fort, under its protection. Archaeological digs on a wider perimeter could eventually yield answers to these questions.