Go back
Safety Committee Representatives, 1967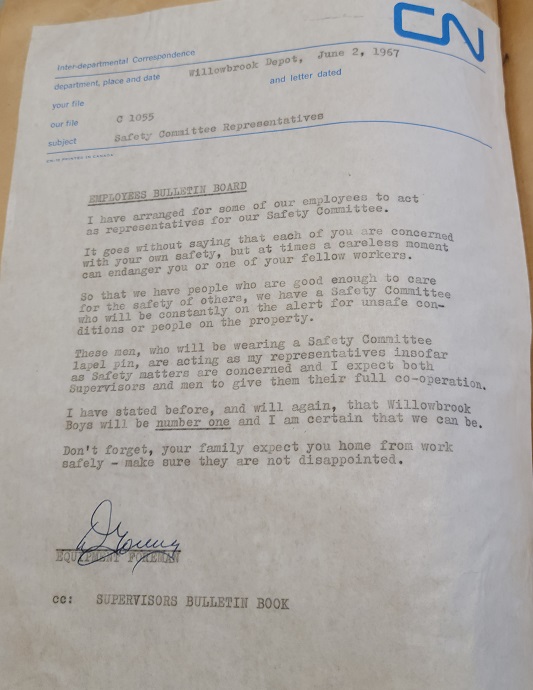 Source: Toronto Railway Museum and Metrolinx
Date: June 2, 1967
This interdepartmental memo from CN describes the formation of a Safety Committee at the Willowbrook Maintenance Facility. Since GO Transit's formation in 1967, safety was very important for all workers.
Document text: 
"Interdepartmental Correspondence CN
department, place and date – Willowbrook Depot, June 2, 1967
your file and letter dated
our file – C 1055
subject – Safety Committee Representatives
CN-12 PRINTED IN CANADA
EMPLOYEES BULLETIN BOARD
I have arranged for some of our employees to act as representatives for our Safety Committee.
It goes without saying that each of you are concerned with your own safety, but at times a careless moment can endanger you or one of your fellow workers.
So that we have people who are good enough to care for the safety of others, we have a Safety Committee who will be constantly on the alert for unsafe conditions or people on the property.
These men, who will be wearing a Safety Committee lapel pin, are acting as my representatives insofar as Safety matters are concerned and I expect both Supervisors and men to give them their full co-operation. 
I have stated before, and will again, that Willowbrook Boys will be number one and I am certain that we can be.
Don't forget, your family expect you home from work safely – make sure they are not disappointed.
[signature]
EQUIPMENT FOREMAN
cc: SUPERVISORS BULLETIN BOOK"