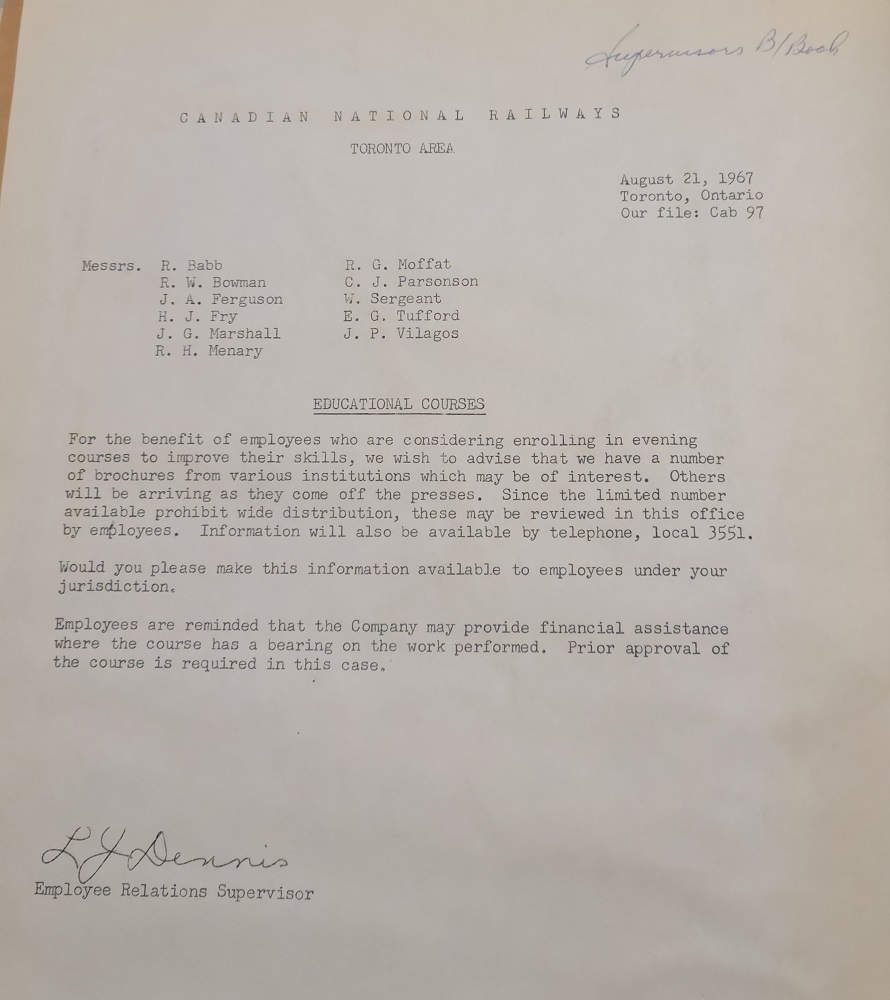 Source: Toronto Railway Museum and Metrolinx
Date: August 21, 1967
GO Transit provided educational opportunities for their workers to increase their skills, as seen in this internal memo.
Document text: 
"Supervisor B/Book
CANADIAN NATIONAL RAILWAYS
TORONTO AREA
August 21, 1967
Toronto, Ontario
Our file: Cap 97
Messrs.
R. Babb
R. G Moffat
R. W. Bowman
C. J. Parsonson
J. A. Ferguson
W. Sergeant
H. J. Fry
E. G. Tufford
J. G. Marshall
J. P. Vilagos
R. H. Menary
EDUCATIONAL COURSES
For the benefit of employees who are considering enrolling in evening courses to improve their skills, we wish to advise that we have a number of brochures from various institutions which may be of interest. Others will be arriving as they come off the presses. Since the limited number available prohibit wide distribution, these may be reviewed in this office by employees. Information will also be available by telephone, local 3551.
Would you please make this information available to employees under your jurisdiction. 
Employees are reminded that the Company may provide financial assistance where the course has a bearing on the work performed. Prior approval of the source is required in this case.
[signature]
Employee Relations Supervisor"