1
Moody Junior-Senior High School

By the 1950s Port Moody needed a new school to replace the now aging Central School. Moody Junior-Senior High School was built to house grades 7-12. In 1969 it burned and was rebuilt the following year.
3
Central School is Replaced

A new high school was built at 3115 St. John's St. in 1951 to replace the Central School. The full range of grades 1 through to 12 that were housed in the Central School were segregated.
Moody Junior-Senior High School taught grades 7-12, with two divisions in most grades, and a third for grade 9.
5
The Name: a Typo

The school was originally supposed to be called 'Port Moody Junior-Senior High School' but a mistake had been made on the sign, as it read 'Moody Junior-Senior High School'. School officials took full advantage of the mistake by explaining that the school had been named after Colonel Moody, one of the city's founding fathers.
7
Moody High Opens

The school opened with 19 teachers and 404 students from Ioco, Port Coquitlam and Port Moody. The proud new principal was Mr. D. S. Allan.
9
Renovations

In 1962, Moody High School began expansion. Changes were being made to accomodate a larger student population, and extracurricular activities.
11
A Cafeteria: Yum, Yum

The 1962 renovations added a cafeteria.
In 1963, a band room, four new classrooms, a student council room, and a book storage area were added.
13
Moody High School burnt down on march 24th, 1969
24 March 1969
Moody High School, Port Moody, BC, Canada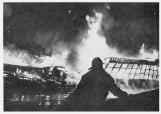 14
Moody High Burns

On March 24th, 1969, tragedy struck the school and the community. Moody High School was completely destroyed in a fire. Total damages were assessed at approximately 2 million dollars. Even today the fire is clouded by suspicion of arson.