14
Moody High Burns

On March 24th, 1969, tragedy struck the school and the community. Moody High School was completely destroyed in a fire. Total damages were assessed at approximately 2 million dollars. Even today the fire is clouded by suspicion of arson.
16
The burnt remains of Port Moody's High School.
25 March 1969
Moody High School, Port Moody, BC, Canada


18
Nearby Coquitlam Shares

For the final months of the 1969 school year, students attended classes at Como Lake Secondary School. Classes were cut to 45 minutes each, and the school day was only 4 1/2 hours long, to accomodate the students students from both schools. Students from Como Lake attended classes in the morning, and Moody students attended in the afternoon.
20
Difficult Grade 11 and 12

Classes continued with this time-sharing arrangement with Coquitlam throughout the next entire school year (Sept 69 - June 70). While contractors and architects scrambled to build a replacement school, it was decided that such half-day learning was not of great advantage for the Senior Students. The school board decided to send Port Moody's grade 11 and 12 students to Centennial Senior Secondary School, also in Coquitlam, to attend full-day classes.
22
A September Opening

Port Moody's replacement high school was completed and ready for students by the spring of 1970, but the school board decided to wait until September to open the school to avoid disrupting the students further. In September 1970, the first classes were held in the brand new building.
24
Ceremonious Verbiousness

Moody Secondary School was officially opened on October 21st, 1970.
26
Contemporary photo of Moody Middle School.
16 August 2003
Moody Middle School, Port Moody, BC, Canada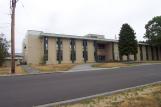 27
Demoted to Moody Middle School

By 1973, the school was converted to a junior high school, as another school called Port Moody Senior Secondary was built to accommodate the growing number of high school students. The junior high school was then renamed Moody Middle School in the late 1990's, and operates as such in 2004.