1
The Port Moody Central School

In its lifetime the Central School served many students. Notably, domestic science and physical drill classes were offered and eventually a high school program in 1915. The school was expanded on several occasions, finally doubling the number of classrooms to eight by the 1930s.
3
The New Four-Room Central School

"Port Moody Central School" was so named in 1907 for its central location at the corner of Moody and St. John's Street. With this new four room schoolhouse it was now possible to have separate classes or "divisions" per grade each taught by its own teacher.

The Central School's curriculum ended at Grade 8, students wishing to continue with high school education had to attend in the distant communities of New Westminster or Vancouver.
5
Physical Drill: the History of Phys. Ed.

Physical education originally existed as a course called physical drill. It was a brief exercise program carried out in the classrooms.

Cash prizes were awarded to the teachers of successful physical drill classes, one third of which was often spent on a having a class picture taken.
6
1st Prize Physical Drill, Div 1 Awarded to Entrance Class by the Dept. of Education.
1917
Port Moody Central School, Port Moody, BC, Canada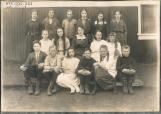 7
Compulsory Physical Education for British Columbia

Physical education was compulsory in British Columbian schools starting in 1910. The Department of Education adapted the principles of "Strathcona Trust," which was an organization promoting "the encouragement of physical training and military drill in public schools."
9
Domestic Science: the History of Home Ec.

Domestic science, later known as Home Economics, was first made available in Port Moody in 1921. Special certificates, like the one pictured here were awarded for the completion of such a course.

Space was not available at Central School for stoves and sewing machines. These were installed in the basement of the municipal recreation center and this was where the domestic science classes took place. Since this course was not taught at Port Coquitlam's schools, that community's students came by bus to Port Moody every week to receive instruction in domestic science.
11
Classroom Number Five: A High School Classroom is Built

Port Moody Central School maintained its original layout until 1915. In that year additions were made to the school premises to accommodate the students wishing to continue with high school education. For this renovation a fifth classroom was built as a separate building to the main schoolhouse.
13
Classroom Number Six

A sixth classroom was built in 1918, also separate from the main schoolhouse, again to accommodate more divisions in the curriculum. The front windows of these two rooms faced St. John's Street and was adjacent to the elementary school toward the north.