15
The Roof

During the early 1920s a roof was constructed to connect the two additions to the original school. This addition provided a covered play area and walkway for the students and teachers. It can surmised that the winter weather inspired this renovation.
17
Classroom Number Seven

Another addition was made to the school in 1923, when a seventh classroom was added to provide more space for the permanent institution of high school education.
19
Classroom Number Eight: the Final Addition

The final addition was made in the 1930s. The high school enrollment had risen to 31 students in September of 1932, spurring the employment of another teacher and the construction of his new classroom.
21
Contemporary photo of Moody Elementary School.
16 August 2003
Moody Elementary School, Port Moody, BC, Canada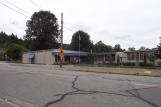 22
Central School Closed and Demolished

The Central School remained in operation as a joint elementary school and high school until it was demolished around 1951. An elementary school, called Moody Elementary School was built at the same location, and a seperate high school was built further east on St. John's Street between 1951-52.
23
New Surroundings for Daydreamers

In 1951 the Central School met its end. As some students may have fantasized, it was demolished. But once the new facilities were built, those daydreaming students would find themselves in updated surroundings.