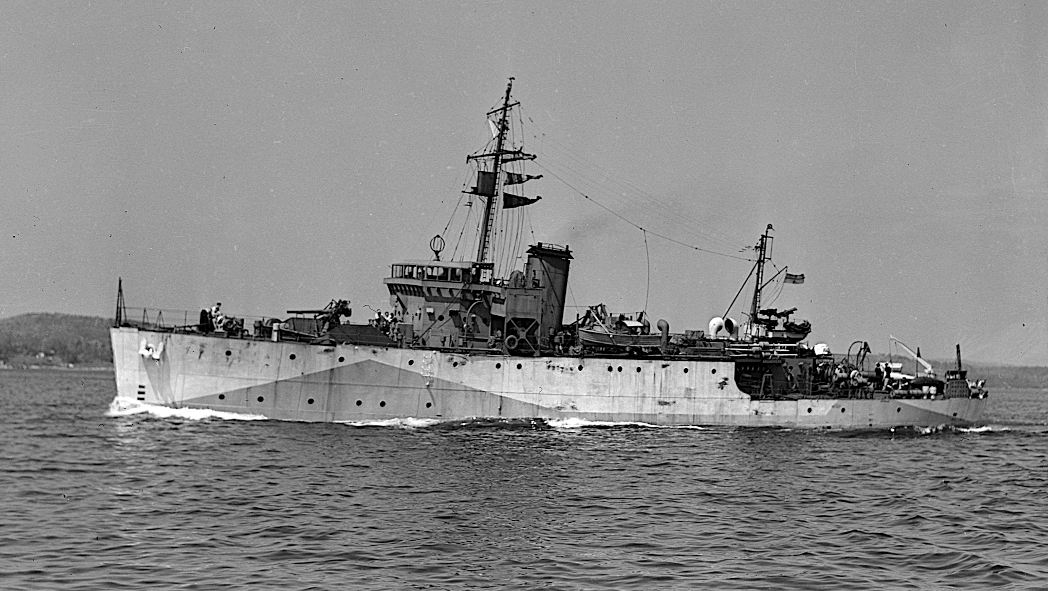 Photo:
Library and Archives Canada, Dept. of National Defence fonds, 1967-052 NPC, PA-105913
His Majesty's Canadian Ship Grandmere was a Bangor-class minesweeper built by Canadian Vickers in Montreal in 1941 for the Royal Canadian Navy. She was armed with a 3-inch QF cannon in the bow and a 2-pounder QF cannon in the stern. She also carried 40 depth charges. The ship was 55 metres long, displaced 672 tons and had a crew of 83 men.
On October 13 and 14 1942, H.M.C.S. Grandmere was escorting S.S. Caribou from North Sydney, Nova Scotia to Port aux Basques, Newfoundland. S.S. Caribou was torpedoed and sunk by the German Submarine U-69. H.M.C.S. Grandmere immediately attacked U-69 with 12 depth charges but caused no damage to the U-boat. After giving up the search for the U-boat, the minesweeper picked up 101 survivors from the sunken ferry.
This photo was taken in May 1942 at Halifax, Nova Scotia.