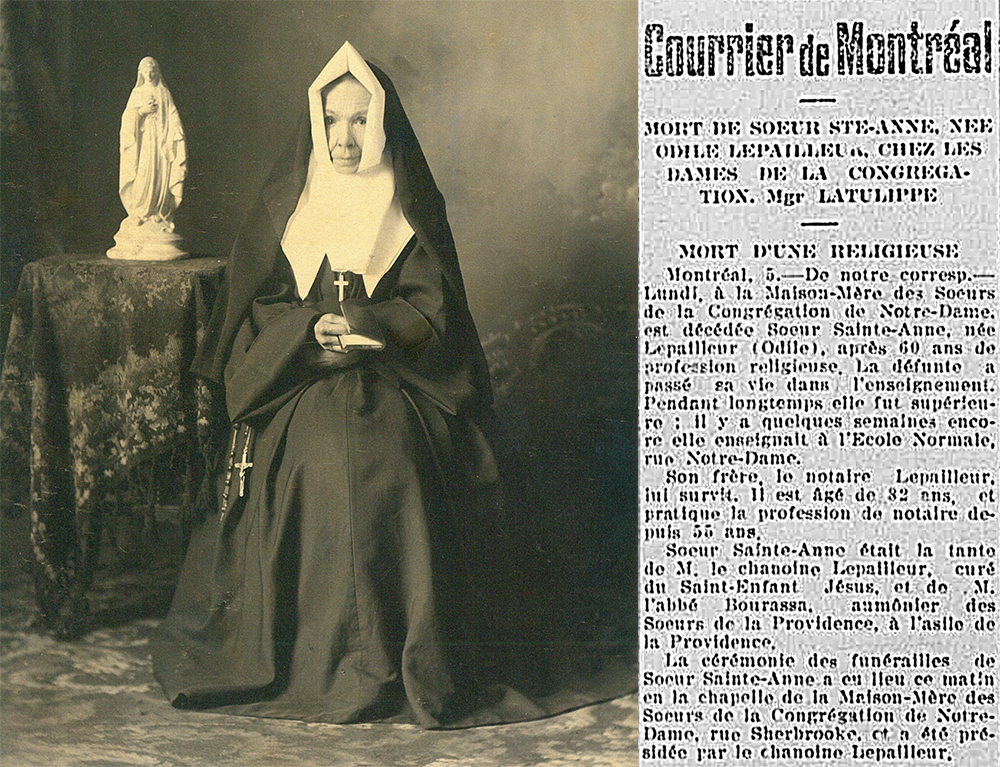 Source: Collection Maison LePailleur
Source: L'Action sociale newspaper on May 8, 1909, page 12
Odile LePailleur was born in Châteauguay on July 8, 1830. She was the daughter of notary François-Georges and the sister of Alfred-Narcisse. She joined the Congregation of Notre-Dame around the age of 18 and adopted the name of Sister Sainte-Anne. She taught throughout her religious career.
In the L'Action sociale newspaper on May 8, 1909, we can see on page 12 (translated):
Montréal Courrier de Montréal
PASSING OF SISTER STE-ANNE, NEE ODILE LEPAILLEUR, AT THE DAMES DE LA CONGREGATION, Mgr. LATULIPPE
DEATH OF A NUN
Montréal,5. -From our corresp. –
Monday, at the Mother House of the Sisters of the Congregation of Notre-Dame, Sister Sainte-Anne, née Lepailleur (Odile) passed away after 60 years of religious life. The deceased spent her life teaching. She was Mother Superior for a long time; a few weeks ago, she was still teaching at École Normale, on Notre-Dame Street.
She leaves behind her brother, notary Lepailleur. He is 82 years old and has been practising as a notary for 55 years.
Sister Sainte-Anne was the aunt of Mr. Canon Lepailleur, parish priest of Saint-Enfant Jésus, and Father Bourassa, Chaplain of the Sisters of Providence, at the Providence Asylum.
The funeral ceremony for Sister Sainte-Anne took place this morning in the chapel of the Mother House of the Sisters of the Congregation of Notre-Dame, on Sherbrooke Street, and was presided over by Canon Lepailleur.