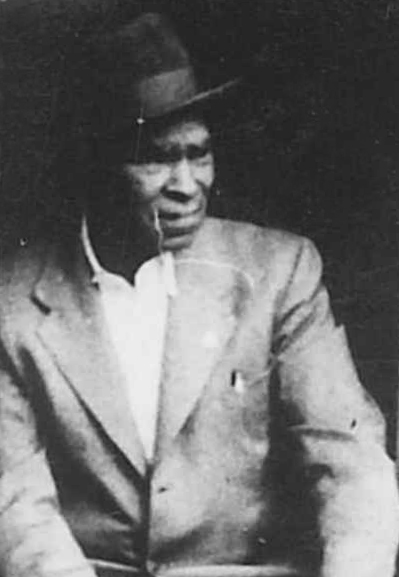 Courtesy of New Brunswick Sports Hall of Fame, 2021
"The greatest athlete ever produced out of New Brunswick in his era."
– Maurice Eatman, 2019
World champion sprinter and First World War veteran, Eldridge E. Eatman was born in Zealand (Parish of Bright) to John and Jane (Dymond) Eatman. He never married, making it easier for him to travel and pursue his dreams as a world-class sprinter. Despite growing up in poverty, Eldridge became a talented athlete who started sprinting professionally in the early 1900s. This was a time when few Black people were able to participate in professional sports, due to factors such as exclusion and racism. In 1903, Eldridge beat the world champion 120-yard sprinter Tom Keen, on the Moose Path racing track in Saint John. In 1905, Eldridge also clocked the fastest Canadian sprint time at the Maritime championships, with a time of 9.8 seconds. He later went on to achieve many successes in North America and in Europe.
When the First World War commenced in 1914, Eldridge Eatman was competing as a sprinter in England. After his contract ended he enlisted with the 2nd Battalion Royal Northumberland Fusiliers, and served as an infantryman in the British Expeditionary Forces. Returning to Canada after the war, Eldridge continued with his sprinting career, and in 1919 won the prestigious Powderhall Marathon Trophy in Edinburgh Scotland. In 1930 he was invited to attend the Empire Games (later known as the Commonwealth Games) held in Hamilton, Ontario.
In addition to his sprinting career, Eldridge Eatman also spent time touring America as a sports promoter, and worked for a time as a lecturer and entertainer. In 1935 he became an unofficial representative of Emperor Haile Selassie of Addis Ababa in Ethiopia, leading an effort to recruit and raise funds for an army to fight against the fascist regime of Italy's Benito Mussolini. Eldridge was even filmed speaking about the cause, in an effort to raise awareness in the United States. This film is now preserved in the Sherman Grinberg Film Library.
Eldridge Eatman is remembered as "the greatest [athlete] ever produced out of New Brunswick for his era." He is also considered to be one of the most outstanding sprinters of the early 20th century. He was inducted into the Saint John Sports Hall of Fame in 2002, the New Brunswick Sports Hall of Fame in 2016, and the Maritime Sports Hall of Fame in 2019.
Reflecting back on his athletic career, Eldridge attributed his success to perseverance and determination: "coloured men do not have all the advantages of whites and when they get a chance, they train consistently."