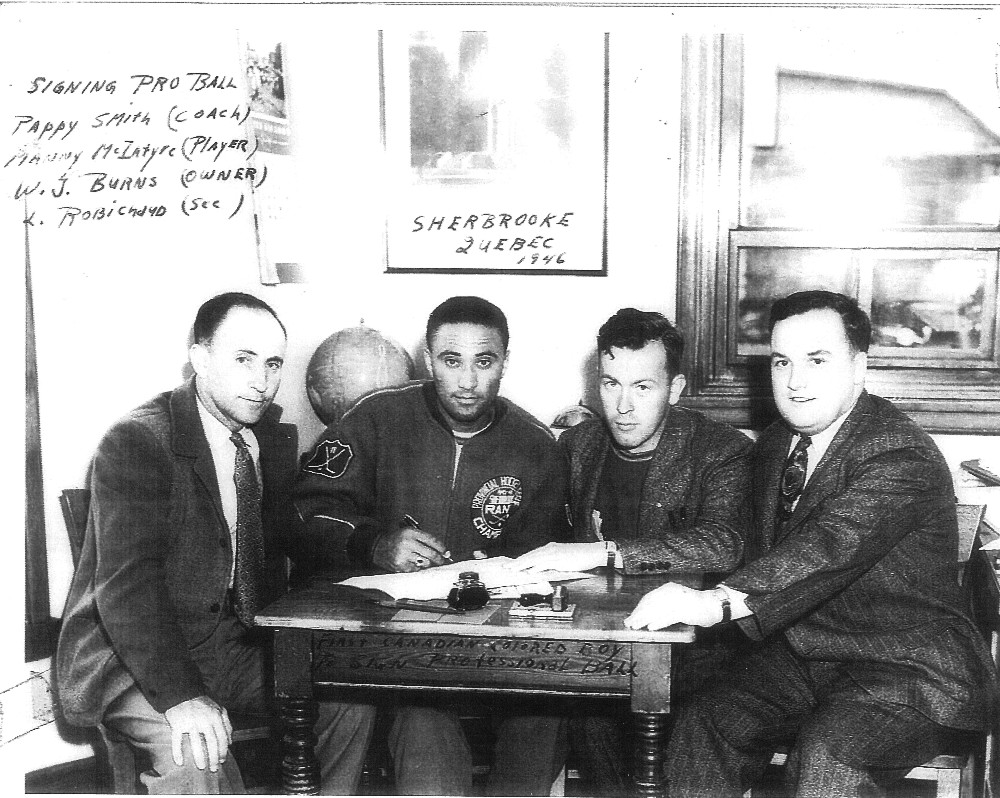 Courtesy of New Brunswick Sports Hall of Fame, PHF97.4-2
"I am not bitter about not making the NHL — I know that I was good enough and that is good enough for me."
– Vincent "Manny" McIntyre, 2009
Hockey and baseball legend Manny McIntyre (1918-2011) was born in Gagetown, New Brunswick.  His father, Edward, worked at the local lumberyard, and his mother, Mabel, cleaned houses. As a child, Manny began playing sports in Fredericton, where he fell in love with both hockey and baseball.  He later excelled in various hockey and baseball leagues across Canada, playing junior, senior, and semi-professional hockey from 1936 to 1955, as well as high level baseball from 1939 to 1949. Manny McIntyre is perhaps best known for playing hockey on "The Coloured Line", along with Ossie and Herb Carnegie. The three played together for the first time with the Porcupine Mines Senior Hockey League Buffalo-Ankerite Bisons, during the 1941-1942 season. They played together for the last time with the Quebec Senior Hockey League (QSHL) Sherbrooke Saints, during the 1948-1949 season.
Manny McIntyre's athletic ability also enabled him to play at a very high level in baseball.  These talents were recognised in 1946 when he was offered a contract with the Sherbrooke Canadians (an affiliate of the St. Louis Cardinals), thus becoming the first Black Canadian to play professional baseball (following closely behind Jackie Robinson and Ray Parlow in the United States).
As a Black athlete trying to break into both the National Hockey League (NHL) and Major League Baseball (MLB), Manny endured harassment and discrimination that many of us today could never imagine. Looking back on his playing days, he later recalled how he and the Carnegie brothers "never worried about playing in the NHL, because we knew we were good enough to play there and we thought our chance would eventually come." But when other players of lesser talent started being called up past them, Manny came to realize that the colour barrier was so deeply rooted in the NHL that he and the Carnegies would never get their chance. That chance did eventually come to other Black athletes, including Willie O'Ree, who later credited Manny McIntyre for providing him with inspiration and determination.