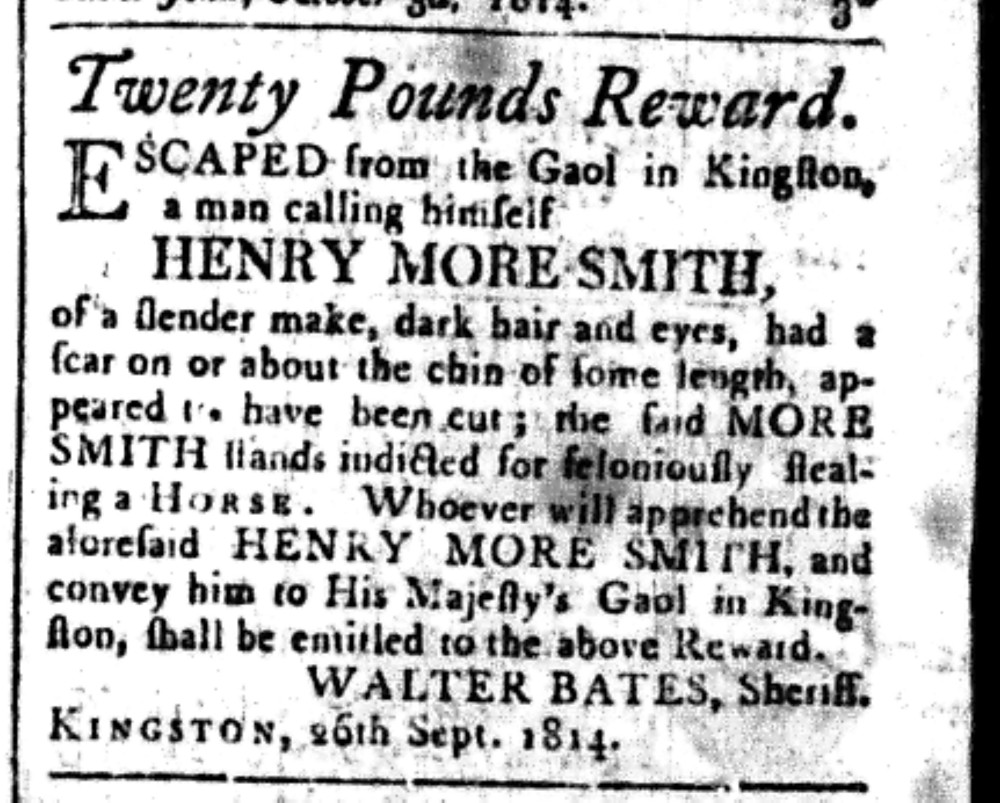 Notification of the Lunar Rogue's escape from the Kingston Gaol in 1814.
Courtesy of the University of New Brunswick Libraries Microfilm Newspaper Collection, Royal Gazette and the New Brunswick Advertiser, October 10, 1814.
"…There he found a barrack or hovel, filled with hay,
belonging to Jack Patterson [sic], a mullato…"
– Sheriff William Bates, Kingston, 1814
When Nathaniel Lad and eight other Free Blacks requested land in Kingsclear in 1791, Jack Paterson (c. 1755 – post 1814) was one of them. At that time they were all living in Fredericton, and their request was denied.
Although it was very common for the land requests of Black settlers to be rejected, six years later, Jack Paterson was indeed successful in obtaining a grant of 100 acres in New Maryland; here he lived for about 8 years.
By 1814, Jack was living in the Lincoln area (on the outskirts of Fredericton), and on October 10 a reward notice was printed in The Royal Gazette, calling for the capture of the notorious thief known as The Lunar Rogue. Henry More Smith was his given name, and he had escaped from jail in Kingston (New Brunswick). Jack Paterson would soon become famous in history, as the man who caught the Lunar Rogue. As Sheriff Walter Bates recounted his story, the Lunar Rogue had been hiding out in Lincoln for sometime before he was noticed. It was shortly after he had stolen from the home of John M. Wilmot in Lincoln (son of Loyalist slaveowner Cpt Lemuel Allan Wilmot), that he and Jack Paterson crossed paths:
"… he [The Lunar Rogue] paid a sweeping visit at the house of Mr. Wilmot seven miles from Fredericton. Finding a large quantity of linen, sprinkled and ready for ironing, he made a full seizure of the whole, together with a new coat belonging to a young man belonging to the house. The plunderer, finding his booty rather burthensome, took a saddle and bridle, which he happened to discover, put them on a small black pony, which was feeding in the pasture, and thus rode with his luggage till he came within two miles of Fredericton. There he found a barrack or hovel, filled with hay, belonging to Jack Patterson, a mullato [person of colour], which presented a convenient retreat where he could feed his horse and conceal his plunder…
… Patterson happening to perceive that his hay was lying in an unusual manner out of the window of his barrack immediately formed an opinion that some person had taken up lodgings in the hay, and in this he was not mistaken…he soon made the stranger a prisoner, which was easily affected, as he did not make much effort to escape…"
It was Jack Paterson who returned The Lunar Rogue to his jail cell in Kingston. The last possible mention of Jack is in the 1824 census, where one adult Black man and two Black women are listed as living in Lincoln.