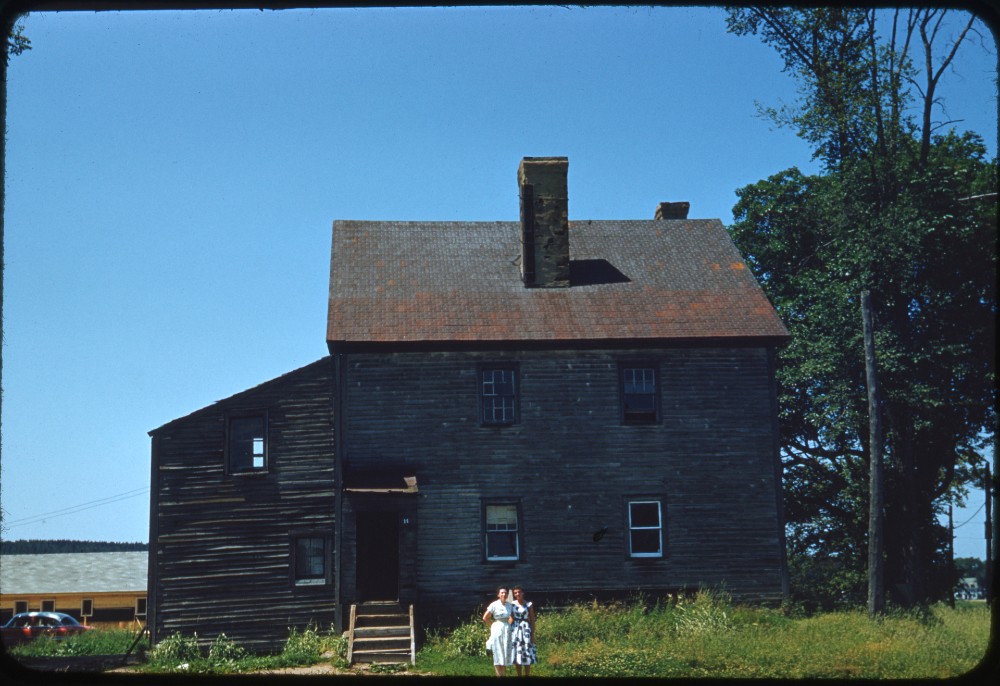 Photograph of Nashwaak House just before it was torn down in 1954 (the two ladies are unidentified).
Courtesy of Provincial Archives of New Brunswick, P438-374.
"Lucy Hammond was very beautiful, intelligent, and hard working."
–  GG Copeland, Barkers Point, 1981
Lucy Hammond (1812 – 1895) was born enslaved to Gabriel DeVeber, who lived in Burton. Her parents were Catherine and James Hammond—also slaves to DeVeber. When Gabriel DeVeber died in 1827, he left mention in his will: "To my black woman Catharine Hammond and my black boys James and Othellow Hammond each £5". What is important to remember when reading this sentence is that by 1827 James Hammond was by no means a "boy"—but rather a grown man—and Catherine was his wife. After DeVeber died, the Hammonds were then given over to another slaveowner, Anthony Barker, who in 1825 had purchased "Nashwaak House" from fellow slaveowner, Stair Agnew.  This is how the Hammonds came to live in (present-day) Barkers Point. Lucy Hammond is remembered as very beautiful, intelligent, and hard working person. Her parents, Catherine and James Hammond, no doubt raised her well.
According to author G. G. Copeland, in the late 1820's an Irishman named Thomas Claybourn was running away from some incident he had committed in Fredericton. Trying to escape, Thomas swam across the chilly waters of the St John River, towards the opposite shore of present-day Barkers Point. There he was helped ashore by Anthony Barker, who lived at Nashwaak House. Thomas Claybourn was big and strong, so Barker hired Thomas to work for him; but Barker treated Thomas as a slave, and Thomas did not like that.
The relationship between Anthony Barker and Thomas Claybourn worsened, to the point that one day, in the heat of an argument, Thomas struck Barker and injured him. Thomas was then arrested, charged with assault, found guilty, and sentenced to five years in jail. But before all this happened, Thomas Claybourn and Lucy Hammond fell in love.
So, when Thomas went to prison, Lucy promised that she would wait for him, and soon after his release the two were married. Thomas and Lucy Claybourn lived the rest of their lives together, at Barkers Point, where they raised four sons. Two of their grandsons, George Hayward Claybourn and Frank Morris Claybourn, proudly served in the No. 2 Construction Battalion during the First World War.
Thomas Claybourn was a physically powerful man, who lived to be 108. Both he and Lucy are buried in the Anglican churchyard at Lower St Mary's.