Go back
Louis "Lou" Sterling Lawrence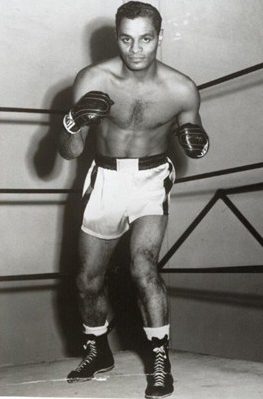 Courtesy of the Lawrence family, 2013
An identical twin, who was without peers as a middleweight boxer.
Louis Sterling Lawrence (1927 – 2013) was an identical twin, who was without peer as a middleweight boxer. He and his brother, Lloyd, were born in 1927 at "Victoria Mills" (on the Lincoln Road, now part of Fredericton), the sons of Woodford Smith Lawrence and Emma Augusta Lawrence. Both Woodford and Emma were descendants of George Lawrence, whose name is recorded in the Book of Negroes, and who in 1785 was one of the "Blacks of Maugerville" denied land by Governor Carleton.
Louis and Lloyd Lawrence began their boxing careers in a Fredericton club that was organized by a local RCMP officer. The twin brothers often sparred against one another, and even fought against each other in bouts in Moncton and Fredericton. The two left Fredericton in the late 1940's, with Louis settling in Vancouver where, in 1950, he became a professional boxer.
Over the next five years Louis Lawrence fought 26 times, losing only two matches. Fifteen of his wins came by knockout. Highlights of Louis' boxing career included winning the Western Canadian Middleweight Crown in 1952, and the Canadian Middleweight Crown in 1955—a competition that was hard-fought in Louis' hometown ring of York Arena in South Devon (Fredericton) against Cobey McCluskey of Dartmouth, Nova Scotia.
After leaving boxing in 1958, Louis became a porter for the Canadian Pacific Railway. After railroad jobs were desegregated in 1964, he worked as a dining-car waiter and conductor for CP Rail and VIA Rail. Louis Lawrence was inducted into the Canadian Boxing Hall of Fame in 1988.