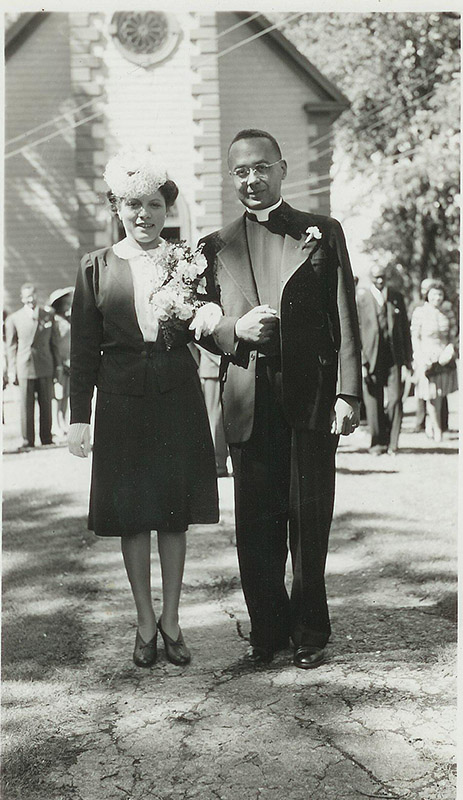 Courtesy of MV Times, 2017
"My only crime was the color of my skin."
– Esther (Taylor) Burgess, Boston Massachusetts, 1964
Civil Rights activist Esther Julia Taylor (1911 – 2004) was born in Springhill, New Brunswick (near Fredericton). She was a great-great-granddaughter of George Rex Leek (1787 – 1861) who, with her great-grandfather, William, helped build St. Peter's Anglican Church. During Esther's youth, she and her family were very involved in the church. Her brother, Donald, was a senior warden, and she became Sunday School Superintendent.  As a young adult, Esther traveled to Raleigh North Carolina in 1944 to pursue her interest in religious studies at St. Augustine's Episcopal College. It was there that she met her future husband, Rev. John Melville Burgess, who was an Episcopal (Anglican) priest. The two were married at St. Peter's Church on August 2, 1945.
Esther's husband, Rev. Burgess, became a bishop in the United States. During the Civil Rights Movement, Esther and her husband became important religious leaders. On Easter Sunday 1964, Esther was one of four women of faith who flew from Massachusetts to Florida at the invitation of the Southern Christian Leadership Conference (SCLC), to join Martin Luther King's efforts to desegregate public facilities in Saint Augustine.  At the Ponce de Leon Motel Restaurant, the four women were accompanied by Dr. Robert Hayling, a Black dentist in St. Augustine, along with a Pembroke College student, and two Yale Divinity School professors.
Segregated by race, Esther Burgess and Dr Hayling were subsequently arrested for attempting to eat in a white-only restaurant, while the others seated at the table were allowed to go free. The two were then ushered to a police car, and, as a deliberate act of intimidation, were directed to sit in the back with a large police dog. The two were then photographed, fingerprinted, and ushered to crowded cells reserved for non-whites in the county jail. There were 24 prisoners with 16 bunks. "My only crime was the colour of my skin," stated Esther Burgess (words that later appeared on the front page of The Boston Globe). Looking back on the Civil Rights Movement, some historians credit the actions in St. Augustine as being the key push that brought about the 1964 Civil Rights Act in the United States.
Although Esther Burgess left Fredericton in 1944, she maintained close connections to her family and friends, and often visited. In 1979, she and her sister Gladys were the driving force behind commissioning a stained-glass window for St. Peter's Church that was dedicated to their Leek ancestors and their family's role in helping build the church.