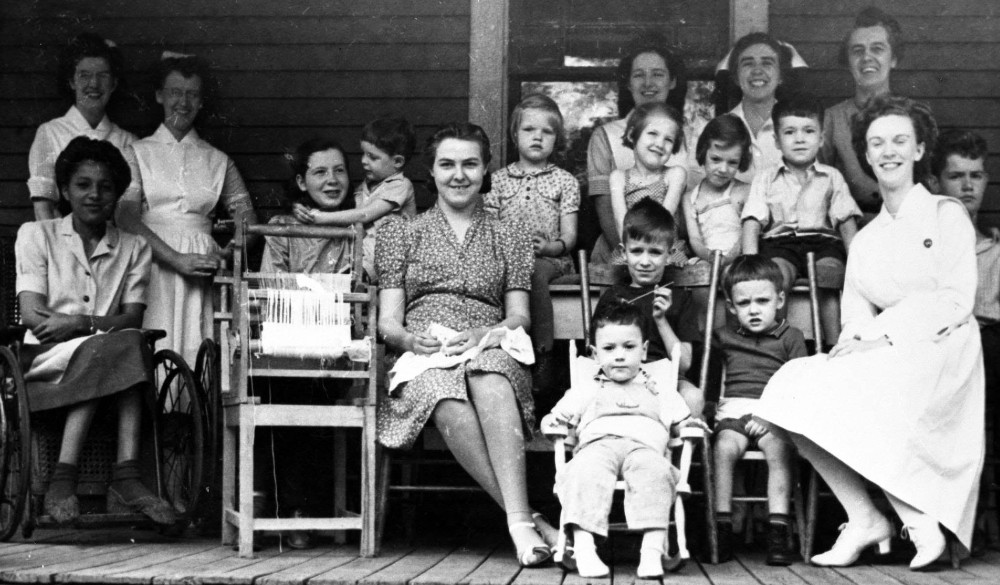 Provincial Archives of New Brunswick, P384-37
Became a leader in Fredericton's disabled community, representing New Brunswick (as one of only two women) on the national wheelchair track and field team.
It was an August afternoon in 1944 and 17-year-old Edith Henry (1925 – 2016) was picking apples with her friends on a neighbour's farm in Springhill, New Brunswick. Little did she know that on that day her life would take a very unique path.  Edith was the daughter of Cecil Ernest Henry and Charlotte Edna Payne of Springhill, New Brunswick. Both of her brothers, Robert and Cyril, had enlisted with the Carleton and York Regiment—Robert being killed in Italy just three months before, and Cyril still serving overseas.
Fun-loving Edith had completed her second year of education at Fredericton High School and was looking forward to returning to her studies. After a long day of picking apples, she thought that her legs were aching simply from climbing up and down the apple ladder; unfortunately, such was not the case. It was not long before doctors told her that she had been stricken with the dreaded polio disease. 1944 had been a particularly bad year for the polio epidemic in New Brunswick; by October, officials were reporting 83 cases, 12 of which were in York County. On that fateful day in August, Edith Henry became one of those statistics. "Of course, I was taken to the clinic at Victoria Public Hospital immediately," Edith later recalled, "and there I stayed for the next five years" (from 1944 to 1949).
During her first year living at Fredericton's Polio Clinic, Edith was required to lay flat on her back both day and night. Then, over months and years, she was slowly able to sit up, and gradually move about with the help of braces and crutches. When Edith left the clinic in 1949, she thought that she would never be able to walk again. Eventually, though, through the help of her family, and special treatment received at a clinic in Cambridge, Massachusetts, she was able to walk with the assistance of a cane.
Returning to Fredericton in 1951, Edith graduated from the Fredericton Business College as a bookkeeper and typist, fulfilling her dream of independence. Later in life, she became a leader in Fredericton's wheelchair community, serving as a founding member of the YM-YWCA Social and Exercise Program for the physically disabled. She also represented New Brunswick (as one of only two women) on the national wheelchair track and field team in 1969.
Despite her physical challenges, Edith Henry lived a full and independent life. When she retired in 1987, after 31 years of employment with the provincial government, she was a manager of finances in the Department of Health.