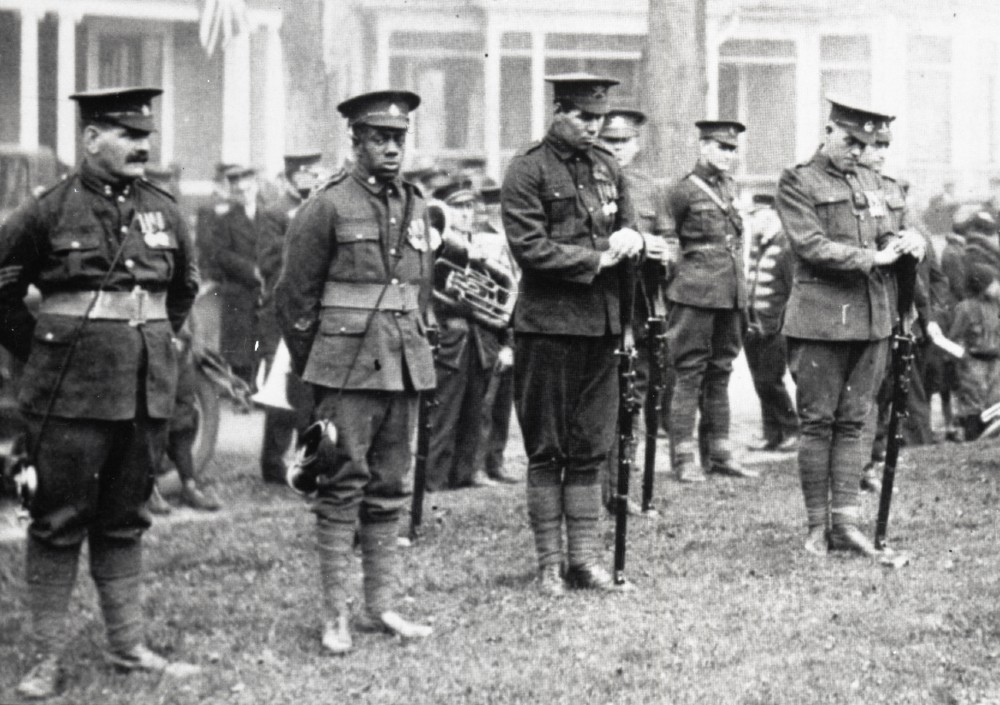 Courtesy of York-Sunbury Historical Society, P132-123
"An honoured member of New Brunswick's Black community, for the work he did to promote the pride, unity and dignity of his race through education."
– New Brunswick Black History Society, 2020
Soldier, railwayman, and farmer, Arthur Seymour Tyler enlisted with the No. 2 Construction Battalion on September 14, 1916 (the only battalion of Black Canadians to serve in the First World War). He was one of 10 soldiers with connections to the Fredericton region who served with this battalion. Although born in Saint John, Seymour's mother, Mary (Lupee) McCarty, was a descendant of Julia Nice (Patterson) Lupee-Lewis of Keswick (Parish of Kingsclear).
Other members of the No. 2 Construction Battalion included:
Seymour Tyler's brothers – Harold McCarty and Charles "Elijah" Tyler – his cousin, Frederick Lupee (also a descendant of Julia Patterson), and brother-in-law Albert Carty (father of "The Carty Brothers"); as well as
Manzer Eatman of Zealand (Eldridge Eatman's brother), and John Eatman of Fredericton (Eldridge Eatman's cousin);
Charles William O'Ree of Fredericton (Willie O'Ree's grandfather);
Frank Morris Claybourn (descendant of Lucy Hammond of Barkers Point);
Harry Timothy Jones of Springfield (Parish of Queensbury), who later married Maude O'Ree of Kingsclear;
Reuben Johnson of Nova Scotia, who later married Thea Dymond – descendant of Frances Kendall of "The Hill" (Parish of Queensbury) and daughter of another celebrated First World War veteran Miles Dymond; and
Edward Sythe Washington, who owned and operated Washington's Restaurant at 90 York Street in Fredericton.
All of these men travelled overseas with the No. 2 Construction Battalion in March,1917.
When the First World War ended, Seymour Tyler became an award-winning farmer in Lakeville Corner (Sunbury County), where his produce often took first place in the Fredericton Exhibition. He later served in the Second World War as a Bugle Sergeant with the Carleton and York Regiment. One of his greatest honours in this role was to sound the Royal Salute when King George VI inspected the 1st Canadian Division in 1939. He later recalled: "I was carrying the Efficiency Decoration and both the King and the Queen exchanged a few words with me that day."
Seymour's career in the Second World War was cut short in 1941 when his leg was broken in seven places during bombing attacks in the Battle of Britain. Because of these injuries he was sent home to New Brunswick, where he commenced his career as a porter for the Canadian Pacific Railway.  When he retired from the railroad in 1959, Seymour Tyler returned to his family farm in Lakeville Corner, where he became friend and confidante to many. He distinguished himself as the most honoured member of New Brunswick's Black community: "for the work he did to promote the pride, unity and dignity of his race through education."