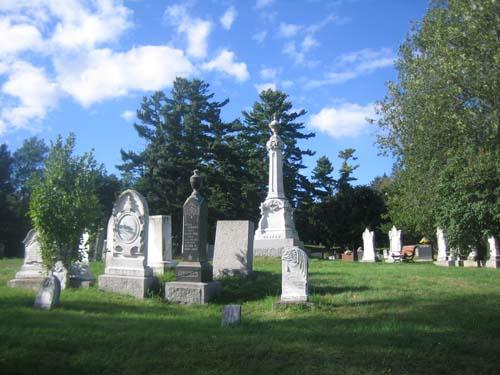 Courtesy of City of Fredericton, Canada's Historic Places, 2011.
Alexander Gibson Memorial Cemetery, Marysville, NB. Ira and Salome Gosman are both buried here in unmarked graves.
Ira Gosman
By
Dr. Douglas Pond
Marysville produced some notable characters through the years and one of note was without doubt Ira Gosman. Frank Robinson said that "Ira was a big man at 6 feet 9 inches and weighed 360 pounds. His hands were like two big hams—the two of them would cover the top of a wagon wheel." Ira was strong as an ox, yet seldom riled, soft spoken, and mannerly… One thing, Ira was not afraid of work.
Most of the stories about Ira are about him and his horse "Pet Lamb". Ira usually took a hold of the shaft and helped the horse haul the load up a hill, and on many occasions he would haul the load up the hill [for his horse] as he thought the going was too rough for "Pet Lamb". Billy Arnold said "us young fellows liked Ira, for he was always picking up loose rocks and throwing them in the ditch. He was always afraid "Pet Lamb" might cut his foot on them or throw his ankle." Bill says we knew the danger of rocks, as we went to school in our bare feet most of the time. Dust would sometimes be in rolls on the road due to the heavy traffic, and we appreciated the absence of rocks as we plodded our way to school.
My father (Horace Pond) could not sing the praises of Ira enough. As a young teenager, he went up to Nashwaak to pick up his father (Sandford Pond) who was returning officer for the election. In those days a keg of rum was generally handy at the polling station, and by the end of the day there would be a number of inebriated [drunk] men, many just spoiling for a fight. Dad had just finished tieing up his horse, when a mob surged on him with no apparent reason. He was scared, and ducked under the wagon; they tried to pull him out, and some tried to kick him. Suddenly the crowd parted. Ira just swung his arms right and left, and upended the mob like nine pins. "Grab my belt Horace" he said to my dad, and with that he plowed back through the mob to the polling station.
Ira was a welcome hand on log drives. He was not only strong but nimble as a cat on the logs. On one log drive, one chap kept after the foreman to "get rid of that [racist term]". This chap not only harped to the foreman, but went out of his way to make it miserable for Ira. Ira had lots of opportunities to turn on him, but he didn't. He had killed a man some time before in Gibson [South Devon in Fredericton] and although he was found not guilty he was always sorry he had acted so fast. A man who had been drinking at one of the taverns tried and tried to pick a fight with Ira, but he just kept pushing him away saying "go away man". Suddenly one of the bystanders hollered "Watch out Ira – he's got a knife!" Ira swung over his shoulder just as the man leaped and caught him in the face and broke his neck. Ira never got roped into a fight after that.
Things had got to quite a pitch on the drive, so much so that the foreman had put Ira on the tail of the drive and the other chap up at the point. As often happens on a log drive, there was a jam. Try as they would they could not break it. Mind you in most log jams the key is only one log, but the trouble is to find it and once having found it to dislodge it. Finally, it was decided to use dynamite. The tail crew had pretty well caught up and were watching the proceedings, as two men laid the charge. One chap hurried to shore while the other lit the fuse. What happened next was not in the books, and no one could figure out after just what made the charge go off prematurely, but it did, and caught the fuse lighter, and blew him up in the air, and he landed, and went under. Logs started going in all directions, and the man surfaced but seemed unable to do nothing but to hang onto a log. Without hesitation, Ira started burling across the logs. He caught the man, and hurled him towards the shore, and then burled across the logs, caught him, and did the same over again, until he got him to shore. On shore he turned to the man and said "I guess God had a reason for this [racist term] to be on this drive". The chap never even said thank you, but turned on his heel, got his rigging and his pay, and left the drive.
Ira [Gosman] and Moses Clark quarried most of the rocks used in building the cellars of the houses in Marysville. The bar that they swung all day was no mean one. My brother Hazen, a member of UNB's rifle team, was on his way to the range one day, and cut through the old quarry. He saw the bar there and tried to lift it, and he said he could not quite clear it off the ground. He could not believe that one man had swung that bar all day long. Ira and Moses were strong and able men, and of course everyone wanted to see these two lock horns [fight]. But how to do this, since both men were well aware of their strength and went out of their way to avoid a fight with anyone. They were both real gentlemen to boot. A picnic on baseball hill finally provided the opportunity. After much persuasion, they had both agreed to a wrestling match. Word spread quickly, and that day people had gathered from not only the surrounding area but from St. Stephen, St. John, Moncton, Newcastle and as far up the river as Edmundston.
It was a perfect day for the picnic, and at 10am the match that they all had been waiting for began. Both men stripped to the waist, shook hands and smiled, and then lock horns they did. Both men were solidly built, with Ira having an advantage in height. They wrestled, broke, sparred, then wrestled again. Sweat poured down their faces and their bodies were clothed in sweat as they gave it all they had. After 3 hours, they broke, smiled, shook hands, and called it quits. The best that either had been able to do was to bring the other to his knees, and that was all.
What Moses Clark could not do appendix did. It broke before the Doctor got to it, and although the Doctor did the best he could, Ira died a few weeks later. Dad says he remembers Ira walking up the road after the operation, and told his mother. She came out and invited Ira in to rest, and gave him a lunch. Dad said he was about done in and he could not believe Ira had got so old so fast. Even on his death bed Ira never lost his cool. He heard the Doctor tell his wife that it was all over. Opening one eye he looked up and said "That doctor's awfully careless with my time".
Dr. Douglas Pond, Marysville, 1983
[Typewritten manuscript,
Nashwaak Bicentennial Association Collection;
Provincial Archives of New Brunswick, MS7/8]