1
Cassia Patton was born in Cochranton, Pennsylvania, in 1861, and went to school at Allegheny College, where she graduated with honours. She taught in Sitka, Alaska, under the American Board of Education in Washington, D.C. While in Sitka, Cassia worked for her brother-in-law, John Green Brady, a governor, in his office as a part-time secretary. Cassia was also a schoolteacher, owner and editor of The Alaskan newspaper (1885-1906), and a member of the Alaska Ethnological Society.

Cassia Patton met Douglas Craig McTavish in Sitka, Alaska, where Douglas was an instructor at the Sheldon Jackson Training School between 1907 and 1911. Douglas left Sitka in 1911, but, fortunately, they were reunited in Calgary in 1912 after Cassia's father passed away. They were married in Calgary at the Grace Presbyterian Church by Reverend Alex Essler in June 1912.

Mr. McTavish was sent to McMurray as a lay missionary for the Presbyterian Church. They arrived and Mr. McTavish soon realized that a schoolhouse would be an essential addition to McMurray, as well as a Presbyterian Church. According to Charles Eymundson, whose son was apparently the first white child in McMurray, in February 1912 the local population was 69 (likely non-native) people, including 34 children. McTavish noticed that many of these children were uneducated and they needed a school.

2
P2008.107.2: Mr. and Mrs. McTavish standing outside the first schoolhouse in McMurray, circa 1912
circa 1912
McMurray, Alberta, Canada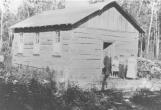 Credits:
Bob Duncan
Photographer - Julian Mills
Fort McMurray Historical Society

3
Cassia, having been a teacher in Sitka, became the first school teacher in McMurray. She taught 13 students in a log cabin during her first year, beginning only a brief period after moving to McMurray in June 1912.

Mr. McTavish immediately set about establishing the first school board in McMurray: the McMurray School District #2833, which became official on September 25, 1912. The Board of Trustees included: Mr. William Gordon, Mr. William Biggs, and Mr. D. S. McKenzie. Mr. McTavish later encouraged Mr. Zephyr Martin to become Treasurer in case of emergency. It became evident that it was a necessary move, following the flu epidemic of 1918, during which many people died.

McTavish was then engaged to build the one-room log schoolhouse with a cloakroom, because of his experience as a builder in Ontario. The schoolhouse cost $800 to build. A teacherage was also built next to schoolhouse. McTavish commenced construction of the schoolhouse at the beginning of September 1912 and it was completed by the end of the year.

4
P2008.46.1: Cassia McTavish with her students in front of the original schoolhouse
1912 - 1923
McMurray, Alberta, Canada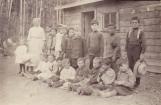 Credits:
Bob Duncan
Fort McMurray Historical Society

5
After a few years, there were 40-50 students and Mr. McTavish taught trades, such as carpentry, while Mrs. McTavish taught the other school subjects: History, Geography, Literature, Science, Algebra and Geometry. Lessons also took place in the Presbyterian Church, which McTavish built in 1916. Mr. McTavish was the Minister at the first Presbyterian Church.

Cassia Patton McTavish taught for 5 years without compensation. The school district was close to bankruptcy, which was strongly due to the town site land monopoly that was controlled by Edmonton real estate developers. This problem was solved on May 1, 1919, when a tax sale was put on. 3000 of 4000 town site lots changed hands that day; the school district was revived, and the future of McMurray brightened considerably.

6
P2010.9.12: Cassia McTavish with students outside first schoolhouse in winter with toboggan, c. 1914
circa 1914
McMurray, Alberta, Canada


Credits:
Bob Duncan
Fort McMurray Historical Society

7
P2007.154.4: School children at McMurray in 1915 (postcard)
1915
McMurray, Alberta, Canada


Credits:
Photographer - Rory McRae
Fort McMurray Historical Society

8
Mr. and Mrs. McTavish left McMurray in the spring of 1923, and the schoolhouse burned down shortly after their departure. Mrs. Embree took over the teaching position when Cassia left. She lived in the teacherage, but after the school burned down and only the shell and part of the cloakroom remained, lessons were held outside and in the teacherage. Classes took place in the church over the next few years until a new two-room schoolhouse was built in 1927.

Mr. and Mrs. McTavish resided in Edmonton for the rest of their lives. Cassia lived to be 91. She passed away in early November 1952, and Douglas died in May 1954. He had also written some brief memoires and poetry reflecting his history in McMurray before he passed away.

9
P2011.92.3: Students taking lessons outside after the schoolhouse burnt down in 1923
1923
McMurray, Alberta, Canada


Credits:
Mrs. Harry Halliday
Fort McMurray Historical Society