1
Community life in Pioneer resembled Bralorne's community life. Pioneer had it's own school, church, tennis courts, hospital, curling rink, community hall, bank and ice rinks. Youth groups and sports were important parts in daily life in the township. Baseball games between Bralorne and Pioneer were held on the baseball field on the hill above Pioneer. Ski races took place through the winters and as with Bralorne, the town chose a Ski Queen and celebrated with a Ski Queen Ball. In general, the towns were expected to function independantly. This changed when the two mines amalgamated in 1959, and for a few years the two communities enjoyed existing closer than before.
4
The first school class was in September 1929 with David Sloan playing a part in the creation.
5
Tennis Court and Mine Manager's Home in background, 1934.
1934
Pioneer Tennis Court, Pioneer Townsite, Pioneer, B.C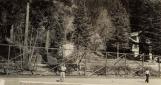 7
Sports and recreation was important to the young children and teenagers as well as the adults. There were youth clubs, hobby clubs, dances and other events in the community hall.
9
Christmas concert presented at Pioneer Community Hall Stage, 1938 or 39.
1938
Pioneer Community Hall Stage, Pioneer, B.C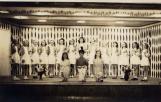 10
Pioneer Ball park 1937 with Joe E. Brown as guest umpire
1937
Pioneer Ball Park, Pioneer Upper Townsite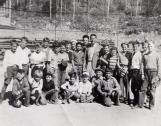 11
Joe E. Brown, a well known celebrity comedian visited Pioneer in 1937 to umpire a ball game with the kids at Pioneer Ball Park. A puppet show and refreshments followed the game. It was a day for the kids to remember for some time to come.