16
Pioneer Girls' Basketball Team, 1953.
1953
Bralorne Community Hall Gym, 1st Townsite, Bralorne, B.C


18
The Ski Queen Coronation was as traditional as that of the Bralorne Snow Queen Ball. The chosen ski queen's duty was to hand out the Ski race trophies at the annual ball.
22
This close-knit community of people also showed a caring for pets and other animals. Since wild animals were very much a part of the area, it was often acceptable to make friends with them all....if you could.
23
Pioneer General store built in 1930, was the first General store in the Bridge River Valley.
1930
Pioneer General Store, Pioneer, B.C. Canada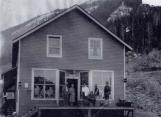 24
The Pioneer Company Store was situated in the middle of the townsite.
25
Ad for Pioneer General Store Grocery and Drug Department in the Communicator.
1938
Pioneer General Store, Pioneer, B.C. Canada