14
North West Field Force, a federal army of eight thousand and led by General Frederick Middleton, was raised because of these incidents and dispatched to quell Big Bear, in the north-east and to relieve besieged Battleford.
16
Seeking retribution, Lieutenant Colonel Otter with a military regiment led an unsanctioned attack on Poundmaker's camp near Cut Knife hill on May 2, 1885. After a lengthy battle, Otter's forces were forced to withdraw, leaving them vulnerable to annihilation; Poundmaker prevented his eager warriors from doing so.
18
On May 29, 1885, anticipating an advance of the military, under Major-General Strange, Big Bear had a series of rifle pits dug into the side of Frenchman's Butte. Strange arrived with his troops and a field gun and found the Cree defenses virtually impregnable. After a brief battle, overwhelming obstacles made Strange decide to return to Fort Pitt and wait for supplies and reinforcements.
19
Fleeing the aftermaths of Frenchman's Butte, Big Bear and his band arrived at Loon Lake. Sam Steel and a force of 60 policemen and soldiers found the Cree camped on both sides of the Narrows. They attacked on June 3, 1885 but were repelled; Steel withdrew a short distance and waited for reinforcements. The skirmish at Steel Narrows was the last armed conflict of 1885.
20
Big Bear in chains at Fort Carlton.
July, 1885
Fort Carlton is located on the east bank of the North Saskatchewan River, west of Duck Lake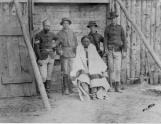 22
Poundmaker and his warriors turned themselves in at Battleford. Big Bear finally gave himself up at Fort Carlton on July 2, 1885. They went to trial in Regina and Poundmaker and Big Bear each received three year sentences. They died soon after their release.
24
Chief Beardy and Chief Okemasis of the Willow Cree were considered unfit chiefs and they were deposed as chiefs (It is said they were also stripped of thier treaty medals). The Willow Cree people were considered disloyal to the crown and sanctions were imposed on the band:
- abolition of the positions of Chief and Councillors (These positions would not be filled again until 1936).
- Confiscation of guns, ammunitions and horses.
- Strict enforcement of the "work for rations" policy.
Chief Okemasis fled to the United States with a small group from his band. The rest of his band stayed with the Beardy's band and the reserve became the Beardy's and Okemasis First Nation. They did not formally amalgamate until 1985.

Chief Beardy died on April 16, 1889, he would not see the day the truth about his <!-SCT-->bands involvement in the Battle of Duck Lake and the other events of 1885 come to light.