1
Cat skiing, in the informal sense, started in the 1970's on Mt. Mackenzie. Blake Franklin had the contract for logging on Mt. Mackenzie and quickly saw the potential of building a road to the top of the mountain and skiing down a logged run. The run from the top was 5 miles long and at the time was the longest downhill ski run in North America.

Blake used his Tucker Snow Cat to get people to the top. Clyde Newsome was a guide for Blake and learned the mountain well in these years.

2
Tucker Snow Cat, Mt. Mackenzie
c, 1970's
Mt. Mackenzie, Revelstoke, British Columbia



Credits:
Catherine Sinclair

3
Snow Cat, top of Mt. Mackenzie
1970's
Mt. Mackenzie, Revelstoke, British Columbia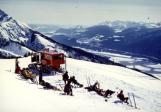 Credits:
Catherine Sinclair

4
When Mt. Mackenzie Ski Developments went into receivership in 1980 it was bought by a company out of Edmonton. For the next few years, a more formal Cat skiing operation existed on Mt. Mackenzie. When that company went bankrupt in the mid-1980's, the City of Revelstoke took over the operation of the ski hill but did not want to take on the operation of the Cat skiing business. Instead, in 1985, Clyde Newsome and his partner, Terry Griebrok, took over the Cat skiing business starting their company, Cat Powder Skiing, Inc. "CAT" stood for "Clyde and Terry." Clyde had worked for Blake Franklin Cat ski guiding in the 1970's and had spent many days on the mountain.

Clyde was 27 years in the business of Cat skiing. His first Snow Cat was a Hagglands, Swedish Army personnel carrier which could be used year round. The company's second machine was a piston bully and the 3rd machine was a Bombardier. All machines held 12 guests and 2 guides.

5
Snow Cat skiing, Mt. Mackenzie
c. 1970's
Mt. Mackenzie, Revelstoke, British Columbia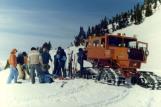 Credits:
Catherine Sinclair

6
Cat Powder skied the bowls emanating from the summit of Mt. Mackenzie. There were about 200 lines, offering fresh powder for about 20 days before needing to be "refreshed" with new snow.

Starting in the 1997-98 season, Clyde took over the management of the downhill ski area, naming it Powder Springs. A road was built to an upper lodge which Clyde built, a chair lift was installed and new runs were cut.

7
The idea of heli-skiing had first been touted in the 1960's. By the mid 1970's it was a reality. Four people could each pay $25 and get a lift to the top of Mt. Mackenzie. Sometimes people were taken to the top by a combination of snow cat and helicopter. There were two problems with helicopter skiing: weather and availability of the helicopter. Though the weather could not be controlled, the snow cat could take people to the top in bad weather.
8
Early heli-skiing in Revelstoke
early 1970's
Mt. Macpherson, Revelstoke, British Columbia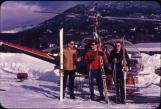 Credits:
Revelstoke Museum and Archives

9
There were two companies that started up heli-skiing in Revelstoke about the same time: Canadian Mountain Holidays (CMH), started by Hans Gmoser, came to Revelstoke in the 1978-79 season. Hans is credited with the idea of heli-skiing. He spent years filming skiing and mountaineering adventures and showing these films around the world. He did much to promote enthusiasm for mountain adventure. Hans started his heli-skiing business in 1965 out of the Bugaboos in the Purcell Mountains of British Columbia using a small helicopter and ferrying guests up to the top of runs. The idea took off and CMH opened several lodges. The Revelstoke area was discovered in a particularly low snow year when other areas had a lack of snow, Revelstoke still had plenty of deep powder. CMH decided to base out of Revelstoke, operating out of The Regent Inn.
13
Currently, CMH Revelstoke has a tenure of 1600 square kilometers. It has a 17 week season with 48 skiers each week. There is a team of 13 guides with 7 working each week. The helicopter used is a Bell 212.
14
Heli-skiing with Canadian Mountain Holidays
c. 2002
Selkirk Mountains, British Columbia



Credits:
Canadian Mountain Holidays
Brad White