8
Revelstoke is also known as a snow mobile capital and many backcountry skiers have combined the snow mobile with ski touring: using the snow mobile to access terrain that would be too far to ski to in a day, but then enjoying the powder turns on their skis that they bring along.

Stuart and Sandy McCrae talk about "truck" skiing in the 1960's, when they would drive a truck up a logging road in the Boulder Mountain area with their skis, 3 people would ski down and whoever drew the short straw would drive the truck down. Everyone would alternate through being a driver for one run.

There have been many creative ways to access the beautiful, deep powder snow in the environs of Revelstoke.

9
Ski-doo assisted backcountry skiing
2002
Tangiers River, east of Revelstoke, British Columbia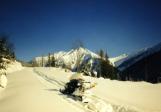 Credits:
Catherine Sinclair